Clinician Educator Award
Funded by the Enriching the Future program
This award supports the career development of promising pediatric hematology/oncology educators. Awardees will receive financial support for scholarship in health professions education, which may take the form of research, advanced training in education, or development of new educational resources. ASPHO will consider applications for funding to cover tuition for education training programs, support unique applicant-designed projects, pay for travel expenses, or fund other opportunities the applicant may identify as critical to his or her success as a health professions educator. One scholar will be funded up to $10,000.
Recipients of the award are required to produce a scholarly work product such as a curriculum, new educational resource, analysis of new data, or the like. All recipients are expected to summarize their accomplishments in the form of a poster presented at the ASPHO annual meeting within two years of receiving the award.
Qualifications
ASPHO member in good standing
Member in any category other than Emeritus
The following documents will be required when completing the application
Curriculum Vitae, not to exceed 20 pages
Two-page Project Proposal addressing the following: Specific Aims, Background, Methods and Analysis, Impact and Significance
Personal statement (no more than 1 page)
Project budget with justification
Two Letters of Recommendation, one of which should be from the applicant's supervisor. For example, this may be the Division Chief, if the applicant is a faculty member, or the Program Director, if the applicant is a fellow. The other letter can be from any author of the applicant's choosing
2018 Clinician Educator Award Winner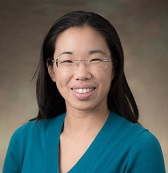 Tiffany Lin, MD
University of California, San Francisco
San Francisco, CA
Dr. Lin will receive up to $10,000 to fund her work on her approved project, which will develop an interactive case to teach fellows and advanced care practitioners who will work with hemophilia patients. The case's learning objectives will include diagnosis of neonatal bleeding, principles of prophylactic factor therapy, and diagnosis and treatment of inhibitor development.
Lin shared that the project will provide a shareable curricular element to pediatric hematology/oncology programs and hemophilia treatment centers for training regarding basics of diagnosis, treatment, and complications of pediatric hemophilia care. It can be used nationally and beyond as it will be developed in conjunction with World Hemophilia Foundation guidelines.
She will receive her award at the 2018 ASPHO Conference, May 2-5, 2018, in Pittsburgh, PA.
Past Recipients
2017 Marieka Helou, MD MPH
Children's Hospital of Richmond at VCU
2017 Jennifer Snaman, MD PhD
St. Jude Children's Research Hospital
2016 M. Paula Aristizabal, MD MAS
University of San Diego/Rady Children's Hospital San Diego, CA
2016 Jennifer C. Kesselheim, MD MEd
Dana-Farber/Boston Children's Cancer and Blood Disorders Center
2015 Mark Atlas, MD
Steven & Alexandra Cohen Children's Medical Center
2015 Erika Friehling, MD
Children's Hospital of Pittsburgh