Commercial Sponsorship/Annual Conference
Exhibiting and Advertising at the ASPHO Conference | Advertising Opportunities
The ASPHO Conference is an excellent opportunity to enhance your company's visibility while gaining a more powerful presence and profile with more than 1,100 pediatric hematologists/oncologists.
The 2021 ASPHO Conference will take place in Portland, Oregon, April 21-24.
Supporting ASPHO's Conference is an excellent way to
enhance your visibility
drive traffic to your booth or event
support research and treatment
position your company as an industry leader.
Sponsor a program or event and receive benefits according to your sponsorship level. Commercially Supported Symposia opportunities also are available. View the corporate brochure and learn how to improve the care of children and adolescents by supporting those who care for them. For a listing of common sponsorship options or programs please visit the ASPHO Opportunities webpage.
Please commit by March 19, 2021.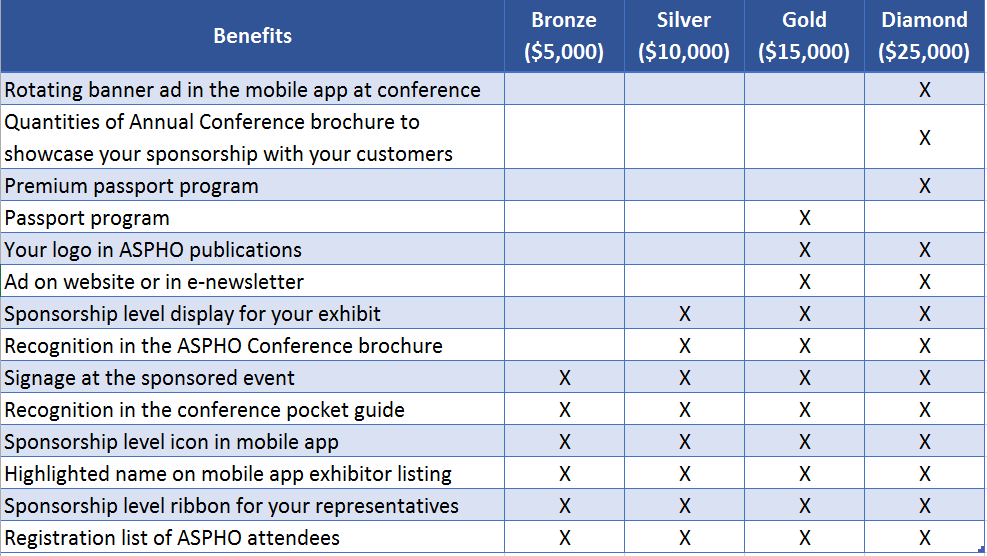 Sponsorship Events and Opportunities
Kick off the conference in the exhibit hall and receive excellent visibility with signage at the events.
Wireless access is one of the amenities most requested by meeting attendees! Sponsor the wireless access area at the meeting and receive excellent visibility and recognition, including signage in the wireless area.
Lounge area in exhibit hall with a charging station. Recharge yourself as well as your electronics.
Recognition onsite and on the T-shirts of the runners at ASPHO's 5th Fun Run.
E-mail/internet stations are located adjacent to registration, where attendees find conference information. Your organization will be recognized on all computer screens, as well as on the kiosks that house the computers.
ASPHO award winners will be recognized at this high-profile reception. Awards include the Distinguished Career, Frank A. Oski Lectureship, and Young Investigator Awards.
Charging stations will be available in the ASPHO booth, as well as near registration. Attendees will be able to charge their electronics before sessions.
All attendees registering at the host hotel will receive a room key with your company logo or message. This opportunity offers great visibility for your company and its brand each time attendees enter their hotel room.
A photo booth will be in the exhibit hall for attendees to take their picture with the Pittsburgh backdrop. Your logo will appear in the corner of all pictures and will be posted on the ASPHO Facebook to be seen by attendees and others who follow the ASPHO Facebook. This sponsorship includes a 10' x 10' booth near the photo booth.
As the attendees register they will receive a padfolio with meeting information. The padfolio will feature your company logo providing high visibility.
Speakers, board members, and committee chairs use the speaker room to prepare presentations and network informally, providing excellent exposure for your company to these speakers and ASPHO leaders.
Food and beverage service will be placed near your booth, with signage acknowledging your support and providing excellent visibility for your company. You may provide cups and napkins with your company logo.
Your company name or logo will be placed on the official ASPHO badge holder or lanyard. Lanyards provide excellent visibility throughout the meeting.
This is an opportunity to showcase your company's products, services, or programs by conducting a seminar or product demonstration. The education theater sessions are 30 minutes in length and will be held in a designated area in the exhibit hall, set up in theater style for 100 attendees. The following areas of topics would be of particular interest to pediatric hematologists/oncologists: rare tumors, immunology, gene therapy, vascular anomalies, hemostatic and thrombotic disorders, and diagnosis and treatment of bone marrow failure.
Time slots are assigned on a first-come first-served basis: (Times are subject to change and will be confirmed when application form is received.)
CME and Non-CME Satellite Symposia
ASPHO invites the submission of proposals for Satellite Symposia to be presented at the 2021 ASPHO Conference in Portland, Oregon, April 21-24. The diversity of the educational sessions and the speakers' expertise will be notable attractions.
View The Satellite Symposia Application

View Satellite Symposia Guidelines
Applications should be received by January 22, 2021. The CME and non-CME presentations will be scheduled during certain breakfasts, lunches, and dinners with pricing ranging from $20,000 to $40,000 according to the day/time and room availability. The fee includes meeting room rental, standard audio-visual, a pre-registrant mailing list, and listing on the ASPHO website and in the conference mobile app.
If you are interested in submitting for providing continuing medical education session, please view the CME Satellite Symposia guidelines and application links above.
For more information, please contact This email address is being protected from spambots. You need JavaScript enabled to view it. at 847.375.4853.
Commercial Sponsorship/Non-Conference
Industry Relations Council
ASPHO Industry Relations Council (IRC) participation is available to those organizations that support the goals and mission of ASPHO. ASPHO's enhanced IRC program features tiered participation levels to allow companies of all sizes to participate, and includes expanded opportunities to engage with ASPHO leadership. IRC participation offers special discounts, recognition throughout the year, and collaboration opportunities for improving patient care.
For more information please contact This email address is being protected from spambots. You need JavaScript enabled to view it. at 847.375.4853.
Commercial Support for Medical Education Grants
ASPHO has an entire team specializing in grant proposals for medical education maintaining an appropriate firewall to ensure accreditation standards and guidelines. ASPHO, is an accredited provided of ACCME, and offers a variety of educational topics across multiple modalities. Organizations wishing to support the continuing education of our members will find ASPHO most appreciative. Please contact This email address is being protected from spambots. You need JavaScript enabled to view it. directly for assistance at 847.375.4829.