Sponsor, Exhibit, and Advertise with ASPHO and reach more than 2,000 pediatric hematology/oncology leaders and decision-makers.
Conference Support
Gain visibility as an industry expert at this year's VIRTUAL ASPHO Conference!
Connect with attendees, present education and research, and increase your company's brand recognition at ASPHO 2021! Support ASPHO by participating in sponsorship, exhibiting, and advertising opportunities.
Review the support levels below and choose one that best aligns with your company's goals and objectives. View the complete ASPHO Virtual Prospectus and Application.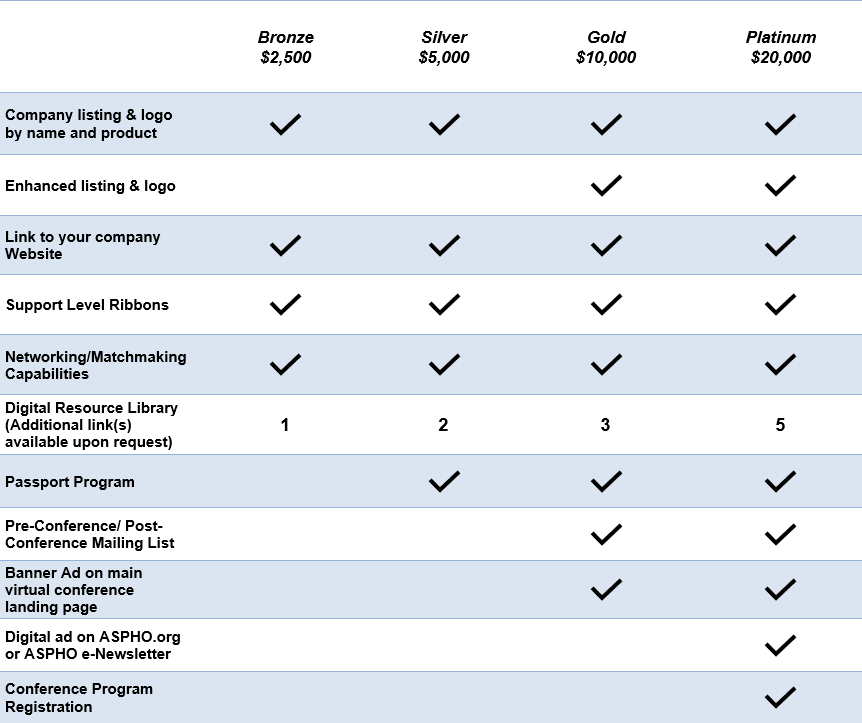 Questions? Contact Michele Gallas at This email address is being protected from spambots. You need JavaScript enabled to view it. .
Commercial Support for Medical Education Grants
ASPHO has an entire team specializing in grant proposals for medical education maintaining an appropriate firewall to ensure accreditation standards and guidelines. ASPHO is an accredited provider of ACCME and offers a variety of educational topics across multiple modalities. Organizations wishing to support the continuing education of our members will find ASPHO most appreciative. Please contact This email address is being protected from spambots. You need JavaScript enabled to view it. directly for assistance at 847.375.4829.