Partner with ASPHO as a Corporate Supporter
Reach thousands of leaders and decision makers in pediatric hematology and oncology
When you get involved with the American Society of Pediatric Hematology/Oncology (ASPHO), you'll connect with 3,200 specialists who need products and services like yours to ensure the optimal care of pediatric blood disorders and cancer.
Together, we advance research, education, treatment, and professional practice, and ASPHO welcomes your assistance in this important work.
Learn about partnership opportunities with ASPHO.
Gain unmatched access to specialists
No one provides better access to the pediatric hematology/oncology specialty, at the bench and at the bedside.
In the U.S., ASPHO members treat virtually all children, adolescents, and young adults who have cancer, bleeding and clotting disorders, thrombosis, sickle cell disease, and other hematologic abnormalities.
Our members are physicians, researchers, trainees, allied health professionals, and hospitalists. They work in more than 40 countries—in hospitals, private practice, academic practice, and more.
Through ASPHO, you'll connect with the hematology/oncology specialists of today and the future. Almost 90% of ASPHO members hold American Board of Pediatrics subspecialty certification in hematology/oncology, and more than 85% of physicians in U.S. pediatric hematology/oncology fellowship programs belong to ASPHO.
ASPHO Members' Primary Specialty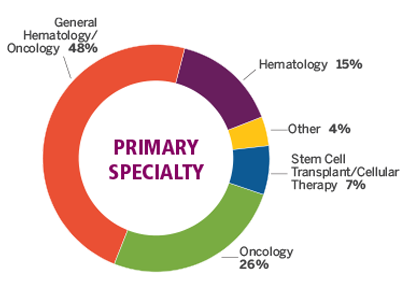 ASPHO Members' Work Setting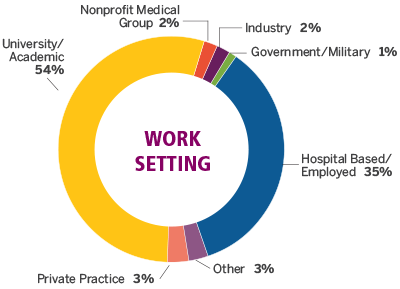 ASPHO Members' Primary Responsibility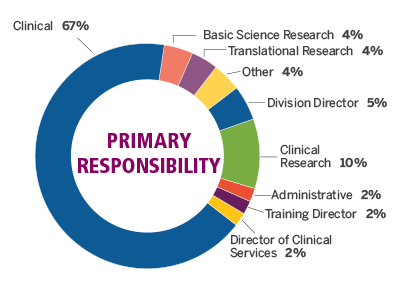 Your Opportunities to Engage with ASPHO Members
ASPHO offers a wide variety of support, advertising, or sponsorship opportunities to ensure you achieve your goals and receive the best return on your investment. Let's work together to determine how best to market your company and products to our experts—or let's collaborate to create custom solutions tailored to you. Contact This email address is being protected from spambots. You need JavaScript enabled to view it. or call 847.375.4853 to start the discussion!
Join ASPHO's Industry Relations Council
Participate in ASPHO's Industry Relations Council to gain expanded access to our leadership, year-round visibility, discounts, and opportunities to collaborate with ASPHO and its membership.
Advertise with ASPHO in print, online, and in person
Advertising with ASPHO ensures your company's name and message are seen by more than 2,000 pediatric hematology/oncology specialists. You can choose the perfect opportunity for your product and ad from many options within the following categories:
digital publications with must-read content
emails can be sent directly to members/nonmembers
conference signage, flyers, room drops, mobile app, and more
ASPHO.org webpages on in-demand topics
direct mail to our members.
Participate in the Annual Conference
Participate in ASPHO's conference to increase your company and product visibility, send traffic to your exhibit, and directly engage with more than 1,100 PHO subspecialists from around the world.
Plan to exhibit at ASPHO's conference to ensure our members can discuss your products and services with you face to face. Meals, posters, and special events are scheduled in the exhibit hall to give you frequent opportunities to talk with attendees.
You can educate members about your products and protocols in the Education Theaters or Satellite Symposia, and take part in programs that bring visitors right to your booth. You can even contact attendees before and after conference to increase interest and reinforce on-site messaging!
Recruit and Advertise to Hematology/Oncology Experts Seeking Career Growth
Whether you have a position to fill or want to target your ads to job seekers, ASPHO's Career Center can help you meet your goals! You can recruit qualified hematology/oncology experts for open positions or place a Career Center webpage banner ad that features your company and products. The Career Center is open to the public, giving your ad extra reach.
Demonstrate Your Support by Funding a Grant for Medical Education
Showcase your dedication to the work of pediatric hematology/oncology specialists: fund a grant for medical education. As an accredited provider of continuing medical education by the Accreditation Council for Continuing Medical Education, ASPHO upholds all standards while presenting content our members need to advance their practice. In appreciation of your gift, ASPHO will thank you for your contribution in marketing and promotional efforts and at the educational presentation.
Let's Talk About How ASPHO Can Help You
Please contact us to learn more about these opportunities and to discuss additional ways ASPHO can help connect you with our members to support shared goals. Complete the online Information Request Form or contact ASPHO by This email address is being protected from spambots. You need JavaScript enabled to view it. or call 847.375.4853.