August 2016
The ASPHO Advocacy Brief
Welcome to the Advocacy Brief, a quarterly offering from the American Society of Pediatric Hematology/Oncology. The goal of this e-newsletter is to inform members about legislative and regulatory issues impacting the profession of pediatric hematology/oncology and the patients we serve.
We are pleased to also announce the Health Policy & Advocacy section on the ASPHO website where you can access Advocacy Brief issues and other relevant information.
Please help ASPHO know what issues are important to you, our members. Send your health policy and advocacy news to This email address is being protected from spambots. You need JavaScript enabled to view it. .
Special Feature
Alliance for Childhood Cancer Action Days
By Dr. Natasha Frederick, MD MPH
On May 16th and 17th I participated in the Alliance for Childhood Cancer Action Days along with my colleague Dr. Shep Nickel as ASPHO representatives. Returning for my second year, I joined over 300 family members, patients, survivors, and other health care professionals from across the country to advocate on Capitol Hill for increased NIH/NCI-directed funding and Congressional and Senate sponsorship of the Childhood Cancer Survivorship, Treatment, Access, and Research (STAR) Act. Briefly, the STAR Act (H.R. 3381/S. 1883), authored by Congressional Representatives Michael McCaul (R-TX), Chris Van Hollen (D-MD), and Jackie Spier (D-CA), along with Senators Jack Reed (D-RI) and Shelly Moore Capito (R-WV), represents the collaborative efforts of childhood cancer advocates across the country to "improve efforts to identify and track childhood cancer incidences, improve quality of life for childhood cancer survivors, ensure publicly accessible expanded access polices that provide hope for patients who have otherwise run out of options, and identify opportunities to examine the research of therapeutics necessary to treat the 15,780 children diagnosed in the U.S. each year."
On the morning of May 17th we set out on Capitol Hill to meet with our respective Congressmen, Congresswomen and Senators. As the sole member of the Massachusetts contingent this year, I made my way to each office to either request support for the STAR Act or to thank the teams of the many who have already signed on. The collective effort put forth on this rainy day resulted in signing on a majority of House Representatives (the bill currently has 247 signatures) and a notable number of Senators (22 signatures).
Childhood Cancer Action Days and the work by the Alliance for Childhood Cancer demonstrate the power of collaboration. By bringing together advocates, patients, families, physicians, and many more to develop a collective "ask," we were able to walk into the offices of our nation's leaders with a bipartisan-supported law that has the potential to impact the lives of thousands of patients and families affected by cancer. To be effective in moving forward with increased funding and support for patients, families, clinicians, and researchers alike, we must continue to work collectively. As researchers and clinicians of ASPHO, we lend a unique perspective that compliments the stories and experiences of patients, survivors, and families, and can therefore lend additional weight to argue for government support.
Take Action on the STAR Act
Currently there are 247 cosponsors of the House bill and 22 cosponsors of the Senate bill. Help us reach more offices by taking action today: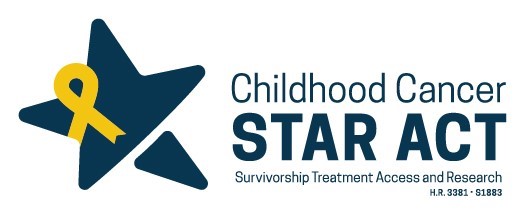 Legislative News
Cancer Moonshot Initiative
On June 29, 2016, U.S. Vice President Joe Biden hosted a Cancer Moonshot Summit in Washington, D.C., which brought together more than 300 stakeholders, including ASPHO member Dr. Peter Adamson and ASPHO Board of Trustees President, Dr. Amy Billett, to generate ideas about how individuals and organizations can better engage in the Moonshot Initiative and come up with ideas for new collaborations and actions. Actions that are already being taken by federal agencies to accelerate progress on the Initiative include:
Establishment of the FDA Oncology Center of Excellence: New center will unite cancer product regulatory review to enhance coordination and leverage the combined skills and clinical expertise across FDA centers.
Establishment of Fast-Track Review for Cancer Treatment-Related Patents: This will allow any applicant to opt into an accelerated review program for patent applications in select fields of cancer therapy.
Making Clinical Research Trials More Accessible to Cancer Patients: The National Cancer Institute is re-designing how patients and oncologists learn about and find information about clinical cancer trials. This will include making clinical data hosted on cancer.gov available through an application programming interface (API) to advocacy groups, academia, and others in the cancer ecosystem.
Concerns and recommendations brought to the Summit by Dr. Billett on behalf of ASPHO included:
Ensure access to survivorship care and palliative care as well as cancer care
Ensure children are included in the precision medicine revolution
Drug shortages are particularly critical for children with cancer
There is a lack of studies demonstrating pediatric indication and dosing
Strengthen the Pediatric Research Equity Act (PREA)

Change the definitions to include molecular targets that are shared in adult and childhood cancer
Remove the exclusion for orphan drugs
Encourage FDA to require pediatric studies (for appropriate cancer drugs) to start before the end of the adult drug development process

Strengthen the Best Pharmaceuticals for Children Act (BPCA)

Encourage and empower the FDA to start pediatric discussions with sponsors of appropriate cancer drugs before end of phase II trials in adults
Develop a plan to achieve earlier submission of BPCA studies
Increase transparency of BPCA activities in progress
Improve oversight

Need to create incentives for pediatric cancer drug development if significant promise in children but not in adults.
ASPHO Supports BPCA/PREA Recommendations
ASPHO joined with other members of the Alliance for Childhood Cancer in supporting the Advancing Drug Development for Childhood Cancer: Policy Principles to Optimize the Pediatric Drug Laws. This report provides recommendations on possible modifications to the Best Pharmaceuticals for Children Act (BPCA) and the Pediatric Research Equity Act (PREA) to be more effective in the development of new therapies for pediatric cancer. The recommendations include such items as expanding the Food and Drug Administration's (FDA) authority to require pediatric studies for new agents in development for adults under certain conditions when the indication is not the same in adults and children and encouraging earlier pediatric discussion for drugs for serious and life-threatening conditions.
The BPCA and PREA were permanently reauthorized by Congress in 2012 with the requirement that the programs be reviewed every five years. The first review has been completed and a report was due to Congress in July 2016. The FDA has indicated that they are in support of some of the recommendations put forth in the Alliance's report in order to strengthen both BPCA and PREA.
ASPHO Endorses the Ensuring Children's Access to Specialty Care Act
ASPHO joined with the American Academy of Pediatrics (AAP) and other pediatric and patient advocacy organizations in endorsing the Ensuring Children's Access to Specialty Care Act (H.R. 1859/S. 2782). This legislation would amend the Public Health Service Act to include pediatric subspecialties in primary health services on the list of eligible providers for the National Health Service Corps loan repayment program.
ASPHO Joins in Concerns Regarding Access to Care for Military Families
ASPHO joined other healthcare providers in a letter of opposition to sections of the 2017 National Defense Authorization Act. The sections in question have the potential to eliminate pediatricians, ob-gyns, and other providers from the Military Health System as well as certain Department of Defense Graduate Medical Education programs that do not directly support combat operations of the United States military.
ASPHO Joins Sickle Cell Disease Coalitions
ASPHO was invited to join two coalitions related to Sickle Cell Disease (SCD) including the Sickle Cell Disease Coalition (SCDC) and the Emergency Department Sickle Cell Care Coalition (EDSC³). SCDC is being convened by the American Society of Hematology (ASH) with the mission of helping to amplify the voice of the SCD stakeholder community, promote awareness and improve outcomes for individuals with SCD. The coalition will focus on promoting research, clinical care, education, training and advocacy, and will be comprised of public health, research and provider organizations, patient groups, faith-based organizations, federal agencies, and funding organizations.
EDSC³ is being convened by the American College of Emergency Physicians and will focus on the dissemination of research findings and the education of emergency care providers on the appropriate management of SCD patients. The coalition will also support advocacy efforts at the federal, state, and local agencies, support outreach and educational efforts to patients and families, and develop appropriate performance metrics to improve the emergency care of patients with sickle cell disease.
Appropriations Process Continues as the Clock Winds Down
With not much time left on the legislative calendar, Congress is continuing work on a Fiscal Year 2017 budget. Of specific interest to ASPHO is the passage of the Senate and House committee versions of the Labor, Health, and Human Services (LHHS) budget which includes several provisions related to pediatric hematology/oncology.
The Senate and House budgets vary on spending levels and will need to be sent to conference committee to iron out any differences. Agreement on a spending bill needs to be made by October 1, 2016. It is likely that Congress will not pass a full budget and instead pass a continuing resolution to maintain funding at the current level for Fiscal Year 2017.
21st Century Cures Act
The bipartisan 21st Century Cures Act was passed by the House of Representatives in July by a vote of 344-77 (170 Republicans and 174 Democrats). Provisions of the bill include reform of the current standards and appropriations for biomedical research, an increase in funding for the National Institutes of Health and the Food and Drug Administration, and a reduction of the regulations on access to medical research and the testing processes of new drugs.
The Senate has been working on its version of the House bill, the Innovations for Healthier Americans Act, and has been taking a more piecemeal approach by holding committee hearings on individual sections of the legislation. A hearing held on March 9, 2016, included the passage of the Advancing Hope Act of 2015 (S. 1878) which reauthorizes the pediatric drug voucher program implemented through the Creating Hope Act. House Speaker Paul Ryan (R-WI) expects a vote on the bill after the November election.
Medicare Part B Demonstration Project Update
Centers for Medicare & Medicaid Services (CMS) issued a proposed rule in March 2016 that would make significant changes to how physician-administered drugs are paid under the Medicare program. The proposed Medicare Part B Drug Payment Model would test whether changing the add-on payment to 2.5 percent plus a flat fee payment of $16.80 per drug per day changes prescribing incentives and leads to improved quality and value. The underlying reason for the proposed rule was to take some sort of action to address rising drug costs.
The proposed model was met with support from patient advocacy organizations but with major concerns from the hematology and oncology community, including the issues that the "demonstration project" would include all providers and suppliers furnishing and billing for Part B drugs without first beginning with a smaller subset of providers to test the model as well as absence of stakeholders in the development of the model. Members of Congress also have concerns with the model and the Senate Finance Committee recently convened a hearing to question CMS' Chief Medical Officer on the specifics of the model. A bill introduced by Congressman Larry Buschon, MD (R-IN), would block implementation of the proposed rule.
CMS has indicated that they will not publish a final rule until 2019, which is the latest they could publish by statute. Many opponents of the rule are seeing this as a win and there still is no indication from CMS on whether or not they will consider tabling the proposed model altogether.