December 2016
The ASPHO Advocacy Brief
Welcome to the Advocacy Brief, a quarterly offering from the American Society of Pediatric Hematology/Oncology. The goal of this e-newsletter is to inform members about legislative and regulatory issues impacting the profession of pediatric hematology/oncology and the patients we serve.
*Send your health policy and advocacy news to This email address is being protected from spambots. You need JavaScript enabled to view it. .
Special Feature
The Transition
Jordan Wildermuth, MSW, Health Policy & Advocacy Manager
The post-election dust has settled and we are beginning to gather a clearer picture of what a Trump administration will look like. Focusing specifically on issues of importance to ASPHO, we can glean more information based on Congress's behavior and assert that President-elect Trump will rely strongly on the likes of Speaker Paul Ryan (R-WI) to help shape any healthcare agenda as well as the institutional knowledge of Rep. Tom Price (R-GA), who has been tapped to head the Department of Health and Human Services. The issue receiving the most attention is the repeal and replace of the Affordable Care Act. There are two tenets of the Act crucial for our patients that Republicans want to maintain, including the barring of discrimination based on preexisting conditions and the allowance of individuals to stay on their parent's/guardian's insurance plan until the age of 26. Issues that remain at bay include Medicaid expansion, subsidies, and the employer mandate. Several proposals have been floated by Members of Congress (including Rep. Price) but there has not been any consensus reached on specific legislation or strategy.
Appropriations is another area that has to happen because the spending bill approved by President Obama in the Lame Duck Session will expire at the end of April 2017. Republicans wanted the Trump administration to have a hand in the budget negotiations for Fiscal Year 2017 so we can be sure that discussions will begin within the first 100 days. What's at stake for ASPHO includes agency funding such as National Institutes of Health (NIH), National Cancer Institute (NCI), and Centers for Disease Control (CDC) (although additional funding for NIH was approved for Cancer Moonshot through the 21st Century Cures Act) and subspecialty loan repayment programs.
Other items that must be addressed because of expiration include reauthorization of the Children's Health Insurance Program, Best Pharmaceuticals for Children Act/Pediatric Research Equity Act, and the Prescription Drug User Fee.
This is a lengthy list without non-healthcare items included; the point being that this is not going to be a fast race toward the finish line and there is going to be a lot of discussion about the above issues. ASPHO will continue to be engaged as an organization and with our coalition partners to ensure the focus of items on ASPHO's health policy agenda including the following:
Ensuring consistent federal funding for hematology/oncology research, surveillance, and other legislation
Improving timely access to drugs, devices, and biologics for children and adolescents
Ensuring sufficient payment for care of children by subspecialists in pediatric hematology/oncology to ensure needed access and workforce
Save the Date
The 30th Annual Meeting will be held April 26–29, 2017, in Montreal, Québec, Canada. "What's Happening in DC? A Look at ASPHO Advocacy Efforts" will be held on Saturday, April 29 at 8 am.
Legislative News
Childhood Cancer STAR Act Stalls in Lame Duck Session
Despite having overwhelming bipartisan support (270 in the House, 22 in the Senate), the Childhood Cancer Survivorship, Treatment, Access, and Research (STAR) Act failed to make it through the Senate after clearing the House on December 6. Although not passed this year, Chair Lamar Alexander (R-TN) and the Senate Health, Education, Labor, and Pension (HELP) Committee has committed to work with the Alliance for Childhood Cancer to get the STAR Act moved though the HELP Committee and moved to the full Senate in the first quarter of 2017.
ASPHO would like to thank everyone who contacted their Members of Congress. Together we can move the STAR Act across the finish line in 2017!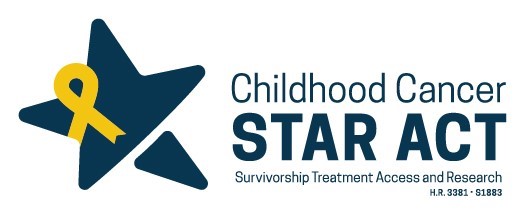 President Obama Signs Landmark Healthcare Legislation
On Tuesday, December 13, President Obama signed the 21st Century Cures Act into law. The Act allows for advancements in the discovery and development of life-saving and life-improving therapies. Specifically, it devotes $1.8 billion for the Beau Biden Cancer Moonshot, the initiative that was led by Vice President Joe Biden and named after his son, former Delaware Attorney General Beau Biden, who died last year of brain cancer. The 21st Century Cures Act also directs approximately $4.8 billion over 10 years for various research initiatives at NIH and an extra $500 million to the Food and Drug Administration (FDA) over the next 9 years to carry out changes required by the bill to some of its drug and device approval processes. Provisions specific to pediatrics include:
reauthorization of the Pediatric Priority Review Voucher Program (Advancing Hope Act) through 2020
collaboration with the national research institutes and national centers that carry out activities involving pediatric research
NIH to encourage a global pediatric clinical study network by providing grants, contracts, or cooperative agreements to support new and early stage investigators who participate in the global pediatric clinical study network
HHS to engage with clinical investigators and appropriate authorities outside of the United States, including the European Union, during the formation of the global pediatric clinical study network to encourage the participation of such investigators and authorities
the manufacturer or distributor of one or more investigational drugs for the diagnosis, monitoring, or treatment of one or more serious diseases or conditions must make Expanded Access/Compassionate Use policies available, such as by posting on a publicly available Internet website.
Temporary Spending Bill Approved
President Obama signed a stop-gap spending bill that will fund the government through April 2017 at the current Fiscal Year 2016 levels. The temporary spending bill will allow the new administration the opportunity to take part in negotiations for funding the remainder of Fiscal Year 2017.
ASPHO Contacts FDA Regarding Erwinia Shortage
In response to the Asparaginase Erwinia Chrysanthemi (Erwinaze) shortage, ASPHO submitted a letter to the FDA sharing the impact that the current shortage is having on patients and providing recommendations in hopes of improving the situation and preventing future shortage issues.
EDSC³ is being convened by the American College of Emergency Physicians and will focus on the dissemination of research findings and the education of emergency care providers on the appropriate management of SCD patients. The coalition will also support advocacy efforts at the federal, state, and local agencies, support outreach and educational efforts to patients and families, and develop appropriate performance metrics to improve the emergency care of patients with sickle cell disease.
ASPHO Endorses Sickle Cell Disease Report
As part of the launch of the Sickle Cell Disease Coalition, the American Society of Hematology published the State of Sickle Cell Disease: 2016 Report on September 6. ASPHO joined with other members of the coalition in endorsing the report, which outlines the current landscape of sickle cell disease (SCD) as well as goals for addressing SCD in the future.
ASPHO Supports Pediatric Subspecialty Loan Repayment Program
ASPHO joined with over 40 organizations in a letter of support for Section 722 of the Helping Families in Mental Health Crisis Act (H.R. 2646), which reauthorizes the Pediatric Subspecialty Loan Repayment Program, and urged this language be included in any final mental health conference package:
*Editor's note: Language was not included in the mental health provisions passed as part of the 21st Century Cures Act.
Alliance for Childhood Cancer Holds Fall Meeting
ASPHO members Drs. Amy Billett and Wendy Darlington attended the Alliance for Childhood Cancer fall meeting on October 7, 2016. ASPHO maintains two representatives to the Alliance as part of the Advocacy Committee charge to collaborate with other organizations as appropriate to achieve the Society's identified priorities. Topics of the meeting included the Childhood Cancer Landscape Report, the Childhood Cancer STAR Act, and the need to continue work on developing a more cohesive and stronger communications strategy.
Nominees Named for Key Healthcare Posts
As the Trump administration prepares to take office in January, one of the key tasks for the transition team is appointing nominees for leadership positions within federal agencies. Once selected, the nominees still need to receive confirmation from the Senate. The positions ASPHO is most interested in include the Department of Health and Human Services (HHS), the Centers for Medicare & Medicaid Services (CMS), and the Food and Drug Administration (FDA).
Rep. Tom Price (R-GA) has been selected to head HHS as the new secretary. An orthopedic surgeon by background, Rep. Price has served in the House of Representatives for 12 years and is currently Chairman of the powerful House Budget Committee. He has been a critic of the Affordable Care Act and has sponsored repeal and replace in the form of the Empowering Patients First Act. Read more about Rep. Price's selection here.
Seema Verma has been selected as administrator of CMS. Ms. Verma is the founder and CEO of a health policy consulting firm and is best known for her work in designing Indiana's Medicaid expansion model under Vice President-elect Mike Pence who was then Governor. Read more about Verma's selection here.
A final selection for the top FDA post has not been made yet, but two names are circulating as potential nominees. The first is Dr. Scott Gottlieb, a partner at a venture capital fund and a former deputy commissioner at the U.S. Food and Drug Administration. The second is Jim O'Neill, managing director of Mithril Capital Management and a past principal associate deputy secretary of Health and Human Services under the George W. Bush administration. Gottlieb seems to be the frontrunner at the moment because of his extensive experience and medical credentials. For more information, read this NBC article on the nominees.
Walden Tapped as Energy and Commerce Chair
Rep. Greg Walden (R-OR) was elected to replace retiring Rep. Fred Upton (R-MI) as Chair of the influential House Energy and Commerce Committee. The Committee has the broadest jurisdiction of any committee with responsibility for the nation's telecommunications, consumer protection, food and drug safety, public health research, environmental quality, energy policy, and interstate and foreign commerce. The Committee also oversees several agencies including HHS and FDA. Read more about Rep. Walden's election in this Politico article.
ASH Congressional Fellowship Program Now Accepting Applications
The American Society of Hematology is presenting a new ASH Congressional Fellowship, which will allow a hematologist to work in a Congressional office on Capitol Hill and help shape health care and hematology policy for an academic year beginning in September 2017. For more information about the fellowship and how to apply, visit the ASH website.
AYA Organization Shifts Focus to Advocacy
Critical Mass, an organization focusing on improving the lives of adolescents and young adults (AYAs) with cancer, has decided to shift their focus to advocacy. The shift comes as a result of the absence on Capitol Hill of an organization dedicated to all AYA cancer issues. Critical Mass's public policy agenda includes the following:
Help AYAs achieve recognition as an underserved population that requires government action to eliminate barriers to care and treatment.
Create a structural change to the field of oncology that recognizes AYA oncology as a specialized field, and reframe the conversation about treatment.
Reframe survivorship for 15 to 39 years olds from short-term survival to long-term barriers that AYA patients face when returning to a life that allows them to be contributing members of society.
More information can be found on the Critical Mass website. ASPHO will be engaging with this group on AYA issues in the future.
FDA Publishes Draft Quality Metrics Guidance
The FDA published its second revision, Submission of Quality Metrics Data: Guidance for Industry, which is a guidance document intended to utilize submitted data and quality metrics to help ensure that FDA policies and practices support continuous improvement and innovation in pharmaceutical manufacturing and improve the Agency's ability to predict and possibly mitigate future drug shortages.
Objectives for the quality metrics program include:
establishing a signal detection program as one factor in identifying establishments and products that may pose significant risk to consumers
identifying situations in which there may be a risk for drug supply disruptions
improving the effectiveness of establishment inspections
improving the FDA's evaluation of drug manufacturing and control operations
identifying potential shortage signals and engaging with manufacturers to mitigate the likelihood of their occurrence.
FDA Examining Clinical Trial Approach
Created as part of the Cancer Moonshot, the FDA Oncology Center of Excellence (OCE) is tasked with creating an integrated approach to cancer treatment. As part of that mission, OCE is currently examining different ways to be more efficient with the use of clinical trial resources including:
modification of the criteria used for determining whether a patient is eligible to participate in a clinical trial to expand the number of people who qualify
shifting away from the conventional phase one, phase two, and phase three drug development paradigm to a more seamless approach that could expedite the regulatory pathway, providing earlier access to highly effective therapeutic drugs
use of common control trials
encouraging the use of large simple trials. More information on these approaches can be found on FDA's blog.
HHS Issues Final Rule on Clinical Trials
The Department of Health and Human Services (HHS) issued a final rule outlining requirements for registering certain clinical trials and submitting summary results information to ClinicalTrials.gov. New provisions include:
providing a checklist for evaluating which clinical trials are subject to the regulations and who is responsible for submitting required information
expanding the scope of trials for which summary results information must be submitted to include trials involving FDA-regulated products that have not yet been approved, licensed, or cleared by the FDA
requiring additional registration and summary results information data elements to be submitted to ClinicalTrials.gov, including the race and ethnicity of trial participants, if collected, and the full protocol
requiring additional types of adverse event information
providing a list of potential legal consequences for non-compliance.