While the 2020 ASPHO Conference was cancelled due to COVID-19, highlights of conference education, abstracts, and clinical practice are featured in the Summer Virtual Learning Series. Learn More.
ASPHO is fully committed to protecting our 2020 ASPHO Conference attendees, exhibitors, and presenters in light of the COVID-19 pandemic.
After closely monitoring updates and recommendations from the Centers for Disease Control and Prevention (CDC), World Health Organization (WHO), and Texas health agencies, and considering the health and well-being of our members, speakers, partners and patients, the ASPHO Board of Trustees has made the difficult decision to cancel the 2020 ASPHO Conference.
We know you may have a lot of questions about this decision, so we've answered your most common and pressing ones on the cancellation FAQ page. Be sure to check this page often as it will be updated whenever we have new information to share.
In addition, you can access COVID-19 resources specifically for pediatric hematologists/oncologists to remain up to date as the public health crisis continues to evolve.
Will ASPHO provide any sessions virtually?
The Conference Planning and Education Committees will be exploring opportunities to deliver some content originally meant to be presented at the 2020 ASPHO Conference. In the meantime, you can review the Conference Schedule to learn about the programming our Conference Planning and Education Committees worked tirelessly to build, the phenomenal education our esteemed faculty developed, and to get a taste of the content you may see at the 2021 ASPHO Conference, April 21-24 in Portland, OR.
More details on how ASPHO plans to administer 2020 conference education will be shared in the coming weeks.
Honoring our 2020 poster and paper submitters
We are proud to highlight the exceptional research conducted and developed by our esteemed paper and poster faculty and presenters, who are advancing the specialty with their cutting-edge hematology/oncology research. As we assess our opportunities to present this content in the future, you can access nearly 350 accepted papers and posters and use the searchable abstract database to find specific topics or authors. In addition, all accepted abstracts will be published in Pediatric Blood & Cancer. Stay tuned as we develop more opportunities to present this important research.
A special thank you to our exhibitors and sponsors
ASPHO would like to acknowledge our 2020 sponsorship partners for their commitment to fostering stronger connections with our attendees to provide better care for our patients.
Look ahead to the ASPHO 2021 Conference in Portland, OR!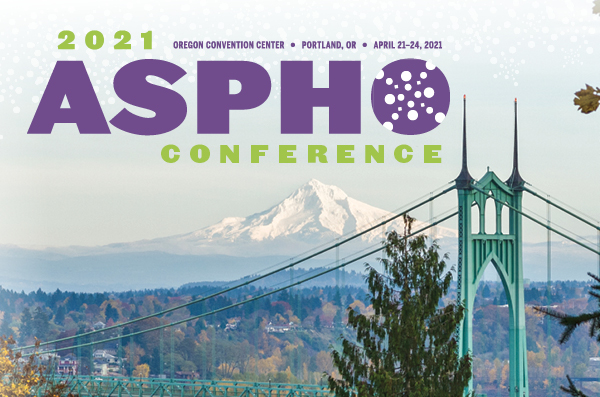 Planning for the ASPHO 2021 Conference is already underway! Join us at the Oregon Convention Center April 21-24, 2021, and advance your knowledge with the latest hematology/oncology research, immerse yourself in high-quality educational content, network with your colleagues, and discover innovative advancements in pediatric hematology/oncology.
Call for Workshops: TBD
Call for Papers and Posters: November 2-January 7, 2020