A Commitment to Mentoring
Reap the rewards of a mentor relationship
The ASPHO mentoring program has been established as part of our commitment to the professional development needs of our members. The goal of this program is to provide pediatric hematology/oncology trainees and practice professionals the opportunity for mentoring in clinical, research, and clinician educator pathways, as well as advice regarding career development. Offering guidance as members launch and navigate their careers helps develop a lasting foundation for excellent patient care, and is vital to the continued advancement of the field.
"More new and junior members need to know about this amazing program. I hope to, one day, be able to help someone as Dr. Hilden has helped me." Patrick Tomboc, DO
Enroll as a Mentee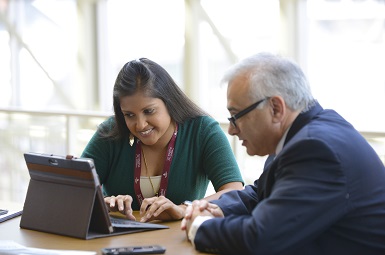 Gain knowledge from an experienced ASPHO member who specializes in your medical field.
Strengthen and build your network by acquiring the skills and guidance needed to excel in the pediatric hematology/oncology profession.
Visit the members only section of the ASPHO website to view mentors.
Mentee applications will be reviewed by ASPHO staff and members of the Professional Development Committee. Mentor matches will be established through a confidential process. Each mentor/mentee match will constitute an agreement between the mentor and mentee, and ASPHO will ask participants to evaluate their mentoring engagement at 6 months.
Enroll as a Mentor and Contribute to the Pediatric Hematology/Oncology Field Today
Share you experience and perspective to help a mentee navigate career paths and development.
Be a role model to the next generation of practice professionals in the subspecialty.
ASPHO is seeking mentors to establish a committed and diverse group of individuals willing to be matched with mentees. As a mentor, you choose to dedicate as much time as you are willing to give. Even connecting through e-mail, a phone call, or meeting at the ASPHO Conference for coffee can make a difference to a mentee. Help support your pediatric hematology/oncology colleagues and enhance your teaching skills.
ASPHO encourages member participation in this important program. Please contact This email address is being protected from spambots. You need JavaScript enabled to view it. for more information. The ASPHO Mentoring Program is for members only, so join or renew to participate.