December 2014
President's Message

Joanne Hilden, MD
ASPHO has four special interest groups (SIGs): Diversity, Palliative Care, Vascular Anomalies, and Global Pediatric Hematology/Oncology.
These facilitate way for members with similar interests to interact with one another and develop common resources. All are open to participation by any ASPHO member and each meets during the ASPHO Annual Meeting. During this president's message, I'd like to summarize the goals and recent activities of each SIG.
The Diversity SIG, formed in 2012, is led by Drs. Ted Johnson and Maria Velez. The group's goals are to provide a networking opportunity for promoting diversity and support the advancement of all ASPHO members through increasing diversity and inclusiveness within ASPHO and the home institutions of members. One key focus is identifying obstacles to academic success for women and underrepresented minorities and determining ways to eliminate them.
The Diversity SIG held workshops at the past two ASPHO annual meetings and implemented trainee travel awards geared toward underrepresented junior trainees. Award winners were paired with faculty mentors to enhance their conference experience. ASPHO members are encouraged to join and bring new ideas to the Diversity SIG.
The Palliative Care SIG is chaired by Dr. Karen Moody. The goal of this SIG is to find strategies to increase the availability of high-quality palliative care to patients with childhood cancer and blood disorders. Strategies include exchanging information about the process of developing a palliative care program, sharing resources such as care pathways and educational materials for clinicians and trainees, and establishing research priorities and networks. In addition, the group is looking to collaborate with other pediatric palliative groups (i.e., the Palliative Care SIGs in the American Academy of Pediatrics and American Academy of Hospice and Palliative Medicine).
The Vascular Anomalies SIG is led by Drs. Denise Adams, Leonardo Brandao, and Cameron C. Trenor, III. The mission of this SIG is to improve the care of children and young adults with vascular anomalies through multicenter collaborative research. Their strategies and goals are to educate members in the diagnosis, treatment, and management of patients with vascular anomalies; establish standards of practice for patients with vascular anomalies through multicenter collaboration; develop collaborative research projects such as hypotheses-generating initiatives, treatment protocols, and prospective observational and interventional studies; and create registries to collect natural history and outcomes data, design standards of practice and treatment protocols, and collaborate with scientists to develop biomarkers, animal models, and improved understanding of biology that will hopefully emerge into the development of prospective clinical trials. And although these goals may seem lofty, they are not impossible to achieve! What they have accomplished so far is extraordinary. The group recently held a steering committee meeting in Boston that was led by Cameron Trenor. Discussions covered the following topics:
A protocol for high-risk vascular anomalies and procedures
An update on sirolimus protocols
A new U.S. Food and Drug Administration–funded protocol comparing vincristine with sirolimus for the treatment of kaposiform hemangioendothelioma, which will open in eight centers
Future publications and collaborative retrospective trials
Information the group would like to make available through the ASPHO website, lectures, and educational material
The next webinar, Diagnostic Pearls in Vascular Anomalies, on Wednesday, April 8, at 3 pm CT
The Practice Committee's work on International Classification of Diseases codes based on the new classification system
Participation of patient and family support groups throughout the annual meeting, and particularly during SIG meetings.
The Vascular Anomalies SIG does solicit members! The only requirement is a passion for these patients. There are many opportunities to join multiple committees within the different SIGs, and they welcome fellows!
Last, we have the Global Hematology Oncology SIG, led by Drs. Uma Athale, Lisa Diller, Patrick McGann, Isaac Odame, and Andrea Orsey. This group's mission is to improve the diagnosis, care, and outcomes for children with hematologic and oncologic disease across the world through the development of training partnerships and collaborative research. Their strategies include developing training modules for pediatric hematology/oncology; helping ASPHO members, particularly during fellowship, participate in global pediatric hematology/oncology training and research programs; identifying international partners from developing countries and engaging these partners within this ASPHO SIG; encouraging participation through the online member community and at the annual meeting; and providing a platform for training North American trainees/physicians in global hematology/oncology. For the past few years, ASPHO has invited an international pediatric hematology/oncology leader to attend the ASPHO annual meeting. This has produced excellent discussions and learning opportunities for everyone involved.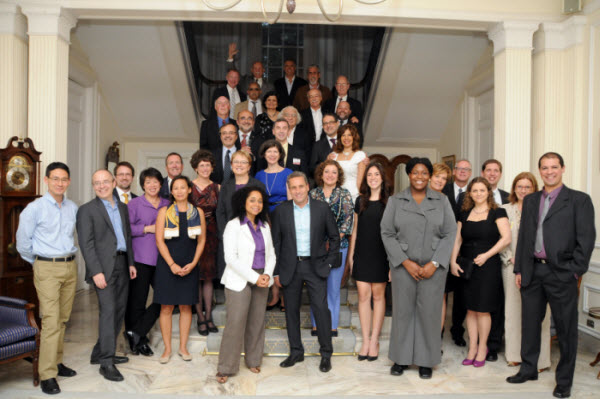 ASPHO members and staff at the American Embassy in Montevideo, Uruguay.
We are working to increase international membership in ASPHO and enhance our interactions with our international colleagues. One effort to accomplish this was the recent ASPHO Essentials Course held in Montevideo, Uruguay. In early in November, ASPHO partnered with Latin American colleagues from GALOP to present the best of original educational programming from ASPHO's 2013 and 2014 Annual Meetings. This event was a resounding success, and we thank our hosts in Uruguay, the attendees from GALOP, and the 10 speakers who traveled to present talks (Patrick Brown, MD; Douglas K. Graham, MD PhD; Katherine Hsu, MD; Melissa Hudson, MD; Mignon Loh, MD; Steven Pipe, MD; Michael Pulsipher, MD; Michael Wang, MD; Daniel Wechsler, MD; Guy Young, MD). Special thanks go to Drs. Julio Barredo and Luis Castillo for outstanding participation and organization, and ASPHO staff members Jackie Holcomb and Michael Bourisaw for all of their assistance. Luis, we especially thank you for the tour of Centro Hospitalario Pereira Rossell in Montevideo, Uruguay.
Aside from the educational component of the trip, attendees were able to appreciate the destination. One of the highlights of the event was the chance to enjoy the talented local rock band Laiojan Sebastian. The band treated us to a song (a punk-rock version of Greensleeves!) written by our very own Pat Brown.
In all seriousness, you should take a second and visit the SIG pages to learn more about their goals and activities and join!
Membership News
ASPHO Pediatric Blood & Cancer Table of Contents
ASPHO's official journal, Pediatric Blood & Cancer (PBC), is pleased to announce the launch of the electronic table of contents (eTOC).
PBC's
eTOC will provide readers a regular update about PBC content directly from the Wiley Online Library. ASPHO members will be automatically subscribed to eTOC beginning in January 2015. More information regarding this service will be available in upcoming weeks.
Follow this link
if you wish to access
Pediatric Blood & Cancer
online before January.
ASPHO Invites Volunteers for Committee Appointments
ASPHO encourages committee participation for members as an excellent way to shape the direction and programs of the society, build your professional network, expand your knowledge and exercise leadership skills.
Appointments will be made in February and March, so that new appointees can join committee meetings at ASPHO's Annual Meeting in Phoenix. Committee members are appointed for staggered 3-year terms and new committee members are appointed annually. Most committees conduct business by e-mail and conference calls throughout the year. Committee assignments are typically flexible and can be scheduled around professional obligations.
It is ASPHO's goal to maintain fair geographic, demographic, and specialty representation, while attracting the most qualified individuals to serve on committees. ASPHO focuses on attracting, developing, and retaining volunteers who reflect the diversity of its membership to play key roles in leading the society. The society seeks to create an atmosphere that encourages varied perspectives and participation on its committees, task forces, and board.
Applying does not guarantee placement on a committee since available positions are limited.
A list of ASPHO committees with openings and a brief description of their purpose follows. To volunteer for an appointment, please complete the volunteer form, providing a statement of interest addressing why you would like to be appointed and what qualifications you will bring to the position, and include your CV.
The deadline to submit an application is Friday, January 16. If you have any questions, please contact This email address is being protected from spambots. You need JavaScript enabled to view it. at 847.375.4876.
Submit Volunteer Application
Certification and Continuing Education Committee
The purpose of the Certification and Continuing Education Committee (CCEC) is to provide strategic oversight for the administration of and instructional design of all ASPHO educational programs by planning and ensuring compliance with Accreditation Council for Continuing Medical Education accreditation requirements; monitoring of member education needs, developing new education initiatives to meet these needs, and monitoring and providing guidance to ASPHO members on maintenance of certification.
Communications Committee
The purpose of the Communications Committee is to enhance communication with ASPHO members and to promote both the interests of the society and the science and practice of pediatric hematology/oncology through its publications. The committee will provide strategic oversight, volunteer leadership, policy and editorial direction, and assessment for ASPHO internal and external communications, including the journal, print publications, newsletters, website, member community, press releases and other such materials. Volunteers ensure that messaging, content, and design are accurate and consistent with the society's focus, values, and brand.
Membership Committee
The role of the Membership Committee is to guide membership development strategy and to advise the organization in areas of member benefits, promotion, development, and retention. The committee employs member feedback and surveys to gauge member satisfaction. Current committee focus includes recruiting advance practice providers into membership, and developing international membership strategies.
Program Committee
The Program Committee develops the annual meeting education program and related activities, including selecting symposia topics and faculty, managing conflicts of interest that may arise, reviewing and selecting workshops and abstracts for presentation, and developing joint programming with related organizations.
Review Course Planning Committee
The Review Course Planning Committee is responsible for course content and faculty recruitment and development, with attention to the ABP subspecialty topic content, feedback from participants, and changing requirements of maintenance of certification. The committee also directs the online review course program.
The Season of Giving
The end of the year is approaching and it's not too late to give.
ASPHO's Enriching the Future campaign will help create educational resources for pediatric hematologists/oncologists to help better serve pediatric hematology/oncology patients.
Thanks to the campaign, ASPHO launched the International Travel Awards on December 15. This new program will allow two pediatric hematology/oncology specialists from developing countries to attend the ASPHO 2015 Annual Meeting and benefit from educational and networking opportunities.
Support of the Enriching the Future campaign and programs such as the International Travel Awards will help equip pediatric hematologists/oncologists with tools to advance their knowledge, serve their patients, and provide the best possible care. Donations are tax-deductible.
Are you shopping online?
Make the most of your holiday online purchases when you designate ASPHO as your organization of choice on AmazonSmile.
AmazonSmile is a feature of Amazon.com that allows customers to support their organization of choice while enjoying the same prices on products on the site. When you shop on AmazonSmile, the AmazonSmile Foundation will donate 0.5% of the price of eligible purchases to the charitable organize you've selected. A little goes a long way. Select ASPHO as your choice organization. Sign up for AmazonSmile today.
2015 Annual Award Recipients
ASPHO is pleased to announce the 2015 Frank A. Oski and Distinguished Career Award recipients:

Frank A. Oski Lectureship
The lectureship is awarded to an outstanding clinical or laboratory investigator in pediatric hematology/oncology whose cutting-edge research is of the caliber of the investigations made by Dr. Frank Oski. The following recipients will be recognized at the 2015 Annual Meeting in Phoenix, May 6-9, 2015.
Stephan A. Grupp, MD PhD
Children's Hospital of Philadelphia
Philadelphia, PA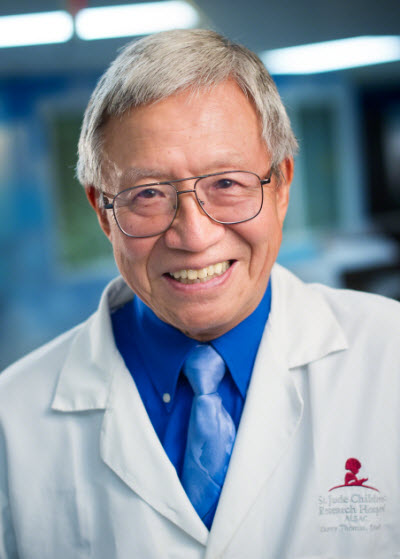 Distinguished Career Award
The Distinguished Career Award is presented annually to a senior physician or other professional who, during his or her career, has had a major impact on the subspecialty through some combination of research, education, patient care, and advocacy.
Winfred C. Wang, MD
St. Jude Children's Research Hospital
Memphis, TN
Diversity Corner
Diversity Initiatives and Activities of the Diversity Special Interest Group
Maria C. Velez, MD, Co-Chair, Diversity Special Interest Group
Recognizing our weaknesses is the initial step in strengthening our profession.
During the past several years, ASPHO has taken the initiative to identify areas within the organization where diversity could be improved. As a result of this self-reflection, the Diversity Subcommittee was developed by the ASPHO Professional Development Committee to evaluate and promote diversity within ASPHO. Other ASPHO diversity initiatives include a "Statement on Diversity" from the Board of Trustees published on the ASPHO website, establishing a Diversity Corner column in ASPHO eNews, expanding diversity among ASPHO committees and leadership, and the recent development of the member-focused Diversity Special Interest Group (SIG). The impact of these efforts is evident. For example, we have seen a considerable increase in ASPHO leadership positions held by women during the past five years. Even so, we still are not a mirror of our nation's ethnic and racial composition.
Under the guidance and enthusiasm of its inaugural members and leaders, the ASPHO Diversity SIG has started to identify barriers to entry and professional advancement for underrepresented individuals. This effort was made possible through the support of an NHLBI/NCI R13 grant (first obtained by Dr. Kathleen Sakamoto and continued by Dr. Theodore Johnson), which catalyzed the formation and function of the SIG. The ASPHO Diversity SIG has successfully developed NIH-funded travel awards to sponsor medical students, residents, and fellows from underrepresented groups to attend the ASPHO Annual Meeting and Diversity SIG workshop. As elegantly described by Dr. Johnson in a recent Diversity Corner article, these awardees recognized and embraced the opportunity to experience for themselves what ASPHO can offer to them professionally during their early career development. Our next step is to maintain a mentoring relationship and future communication with these awardees during their medical training, and to measure the impact that early participation in the ASPHO Annual Meeting has in their career decisions.
With the enthusiasm generated by the participants at the Diversity SIG workshop, the concept of promoting inclusion, diversity, and cultural competency—not only within our field and the ASPHO community but also within the future generations comprised of medical students and residents—has become one of our primary goals. One of the ideas proposed is to create a volunteer-based outreach program to engage local medical schools and residency programs near the host city of the ASPHO Annual Meeting. In this setting, we can foster individual trainees and pediatric hematology/oncology interest groups via an interactive session with practitioners from our society. By engaging these trainees in face-to-face dialogue, we expect to energize and empower them to consider pediatric hematology/oncology and becoming part of ASPHO in their future career planning.
To help us better understand the gaps still present within our own society, our Diversity SIG is actively planning the 2015 Diversity workshop. Dr. Jeffrey Hord, a leader in ASPHO workforce data collection and analysis, is our keynote speaker. Understanding our own diversity, workforce composition, and gaps that exist in the collection of such data will provide us with valuable tools to address diversity issues within our organization.
Finally, by the time this article appears in ASPHO eNews, we will have held the first ever conference call for Diversity SIG members to collaborate on and plan these activities, propose new goals and ideas, and harness the SIG's energy to ensure a very productive year. We would like to invite any interested ASPHO member to join the Diversity SIG by emailing This email address is being protected from spambots. You need JavaScript enabled to view it. .
Education and Professional Development
Now Open: 2015 Call for Papers and Posters, Young Investigator and Early Career Awards
The 2015 ASPHO Call for Papers and Poster Abstracts is now open.
Present your research to more than 1,000 pediatric hematologist/oncologists. Abstract themes can range from
red cells
solid tumors
case reports
quality improvement
and more.
Original, basic, clinical, and social science abstracts that relate to the field of pediatric hematology/oncology may be submitted.
Accepted abstract authors will present at the 28th Annual Meeting in Phoenix, AZ, May 6–9, 2015.
Those who submit an abstract and meet eligibility requirements may submit an application for either a Young Investigator or Early Career Travel Stipend Award.
The deadline to submit an abstract is Monday, January 5, 2015.
Submit Your Abstract
Improve Your Knowledge for Initial Certification and Maintenance of Certification
ASPHO's 2015 Pediatric Hematology/Oncology Review Course gives attendees the opportunity to learn from expert faculty on specific content in the pediatric hematology/oncology subspecialty.
The course provides an overview of
chemotherapy and pharmacology
immunology and immunodeficiency
retinoblastoma
nutritional anemias
congenital and acquired hemolytic anemias
thrombotic disorders
and more!
Register by Monday, January 5, 2015, and save $100 off of your registration!
The 4-day course will prepare you for the American Board of Pediatrics (ABP) exam for initial certification and Part 3 of the ABP's Maintenance of Certification.
ASPHO's review course provides 23 lectures in a collegial and friendly atmosphere and
two lunch sessions featuring a slide review of peripheral blood and bone marrow morphology
a comprehensive course syllabus
a compendium of sample multiple-choice questions
access to the 2015 online course
three networking receptions
breakfast and lunch daily
up to 24 AMA PRA Category 1 CreditsTM.
The live course is only offered every 2 years!
Register Now
ASPHO's 2015 Annual Meeting: Register Now
ASPHO is headed to the southwest!
Join your colleagues in Phoenix, May 6-9, 2015, where an expanded and unique educational program will be offered.
The following programs are NEW to the 2015 Annual Meeting:
Speed mentoring: Fellows and recent graduates will have the opportunity to meet one on one with three mentors for focused conversations.
Invited speakers: Kevin Shannon, MD, from University of California San Francisco and Russell Ware, MD PhD, from Cincinnati Children's Medical Center will be presenting their cutting-edge research during concurrent platform sessions on Thursday.
Early career networking session: Fellows and attending physicians within the first 5 years of their careers are welcome to this new networking session.
Global Special Interest Group: The newly formed Global Pediatric Hematology/Oncology Special Interest Group invites you to the inaugural meeting to share education and training expertise and experiences internationally.
The 2015 meeting presents two opportunities to obtain Maintenance of Certification (MOC) credit. For the third year, ASPHO will offer the MOC Learning Session on Saturday, May 9. ASPHO will also offer attendees a series of case-based, multiple-choice questions developed from specific meeting sessions from the Annual Meeting. Questions can be answered after the meeting to earn additional MOC Part 2 points.
Learn more and register for the Annual Meeting at www.aspho.org/annualmeeting!
On-Demand Webinars
ASPHO webinars are a great way for you to increase your awareness and knowledge on particular issues that directly influence you and your profession.
ASPHO's Knowledge Center allows you to access past webinar recordings from the current series and older!
The 2014–2015 webinar series includes the following recordings:
Announcements
ASPHO Launches the International Travel Award
ASPHO is pleased to announce the launch of the 2015 International Travel Award.
The International Travel Award has been established to fund deserving pediatric hematology/oncology specialists from low- or middle-income countries to participate in the ASPHO Annual Meeting. Attendees at the meeting benefit from the varied education sessions as well as numerous networking opportunities. The travel award will provide lasting benefits for career growth, continued learning, and improved patient care. This award is funded by ASPHO's Enriching the Future campaign.
This award will be granted to two pediatric hematology/oncology specialists from low- or middle-income countries. The International Travel Award includes
complimentary registration for ASPHO's Annual Meeting , May 5–9, 2015, in Phoenix, AZ
one year of ASPHO membership
a travel stipend of $2,000.
The deadline to submit an application is Thursday, January 15, 2015.
Apply Today