June 2019
The ASPHO Advocacy Brief
Welcome to the Advocacy Brief, a quarterly digital offering from the American Society of Pediatric Hematology/Oncology. The digital publication is delivered directly to Society members' inboxes.
*Send your health policy and advocacy news to This email address is being protected from spambots. You need JavaScript enabled to view it. .
ASPHO Bill Tracker
Visit ASPHO's Legislative Tracking Chart to see a list of bills that ASPHO is monitoring.
Special Feature
ASPHO Heads to the Hill
By Shelton Viola, MD, ASPHO Advocacy Committee Member
The Alliance for Childhood Cancer is a national coalition comprising 23 different patient-based and professional organizations that advocates on behalf of children with cancer, survivors of childhood cancer, and their families. I attended the annual Childhood Cancer Action Days, a 2-day lobbying event put on by the Alliance occurring on Capitol Hill in Washington, DC. This event brings together hundreds of individual advocates from all over the country with the goal of presenting, in a unified voice, the Alliance's top priorities to legislators in the Senate and House of Representatives. ASPHO's role in this event was to be part of this voice, and to speak to these priorities from the standpoint of a physician and/or researcher, rather than from the standpoint of a patient or family. I was honored to attend this event as ASPHO's representative.
The first day of the event was packed with presentations and trainings on the issues that were to be addressed to the legislators. Various talks were given by people from organizations such as the Centers for Disease Control and Soapbox Political Consulting, as well as a fantastic presentation from the Director of the National Cancer Institute. In addition, we were guided through rehearsals on how to be an effective advocate and on how to maximize the opportunity of meeting with a legislative office on Capitol Hill.
On the second day, the now-prepared advocates descended on Capitol Hill to deliver their message en masse. For maximum effect, each advocate was scheduled to meet with legislative assistants for the Senators from their state and for the Representatives from their voting district within that state. In these meetings, which typically lasted 15-30 minutes, the advocates communicated the Alliance's priorities for the year and encouraged the legislators to support the issues. There were three main Alliance priorities that the advocates paid particular attention to:
Increasing NIH funding for FY20 to $41.6 billion dollars, including the full $6.5 billion for the NCI and the $50 million for Childhood Cancer mentioned in the President's State of the Union Address.
Fully funding the Childhood Cancer STAR Act with $30 million in FY20.
Becoming an original sponsor or co-sponsor of the Palliative Care and Hospice Education and Training Act (PCHETA).
If the legislator had not already heard of a priority such as PCHETA, the issue was briefly explained. Here, my experience as a clinician was of unique importance as I was able to attest to the need for palliative care training and funding from the clinician's perspective. If the priority was already supported by the legislator, that support was applauded and the legislator was encouraged to bring their colleagues on board and to continue to support it in the years to come.

In addition to the Alliance's legislative priorities, the parents and siblings of children who were in therapy or who had passed away were given the opportunity to tell their personal stories, as were those advocates who had experienced debilitating late effects after surviving childhood cancer. The meetings were quite impactful and emotional all around.

Each legislative assistant listened intensely and authentically, took copious notes, and expressed their intention to brief their Senator or Representative as soon as possible. Our objective of finding support for increased NIH funding for FY20 appeared to be accomplished in the legislative bodies, despite party affiliation and despite the President's budget proposal this year to decrease NIH funding by $5 billion and NCI funding by $900 million. For the STAR Act, support for continued funding was the priority this year, after already being authorized and fully funded in FY19. Here was an opportunity to applaud the legislators' efforts at authorizing and funding an Alliance priority, and to use that positive feedback as the basis for continuing the momentum at its current funding level of $30 million. For the Palliative Care Act (PCHETA), the main goal was to introduce this priority to legislators, to define the term 'Palliative Care' and the need for it, and to encourage them to become a co-sponsor in the Senate when the bill is introduced in a few weeks. This was very well received and also the least well-known of our priorities, so it sparked some original interest by the staffers and there were assurances that they would be "looking into this one further."
This experience was tremendously impactful for me. I was surprised to see how much it meant to the families that a physician was taking part in furthering their cause (there were only a few physician participants). I also was surprised to see how much significance my opinions carried, as a physician, to the legislative assistants. For example, in support of PCHETA funding, I was able to personally (and humbly) attest that I did not have sufficient palliative care-directed training as a pediatric oncologist, that this was felt by physicians throughout our field, and that this lack of appropriate training impacted patients in a negative way. Also, I was able to professionally attest to the increasing need for resources in the research and caring of the late effects of cancer survivors, a need that is directly addressed by the STAR Act. Thus, it appeared to me that a doctor being present to corroborate these needs and priorities alongside the patients and families went a long way in these meetings.
It is critical for advocates to follow up these discussions during the remainder of the year. Each advocate agreed to personally follow up with their respective legislative assistants to ensure that the issues were indeed presented to the Senator or Representative, and to seek feedback on how the presentation was received and if there were further questions or concerns. Importantly, I think all ASPHO members need to know the priorities of the Alliance so that they can supplement the Action Days by contacting their own legislative representatives. Sharing this experience and educating ASPHO members about the legislative priorities, therefore, is an important next step in ASPHO's continuing contribution to the Alliance.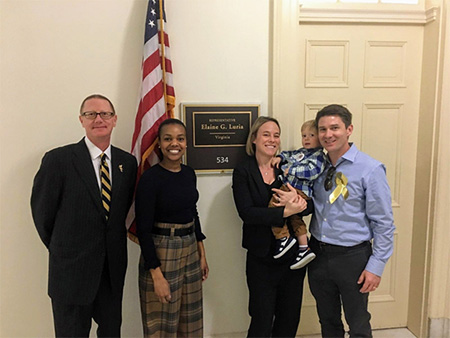 Shelton Viola, pictured far right, in front of Rep. Elaine Luria's (D-VA-2) office.
Legislative/Regulatory News
Alliance for Childhood Cancer Holds Spring Meeting
ASPHO is a coalition member of the Alliance for Childhood Cancer and participated in their March 2019 spring meeting. This meeting discussed updates to Childhood Cancer STAR Act funding, the outcome of a drug shortage working group discussion, and additions to the Alliance policy agenda.
ASPHO Joins Alliance for Childhood Cancer Drug Shortages Working Group
The Alliance for Childhood Cancer has convened a drug shortage working group that ASPHO has been invited to participate in. This group has been working to identify potential policy issues the Alliance could adopt as it relates to drug shortages. The drug shortage working group is ongoing. Also related to drug shortages is that ASPHO met with Jazz Pharmaceuticals during the 2019 ASPHO Conference.
ASPHO Supports DIPG Awareness Day
ASPHO joined the Alliance for Childhood Cancer in supporting H. Res. 114, a resolution that would designate May 17th as 'DIPG Awareness Day.' This resolution would raise awareness and encourage research into cures for diffuse intrinsic pontine glioma and pediatric cancers in general.
ASPHO Supports Funding for Cancer Research
ASPHO signed on to a letter with the Alliance for Childhood Cancer thanking the Administration for supporting additional funding for pediatric cancer research during the State of the Union speech. At the same time, the letter also expressed concern that overall cancer research goals would be impeded by the President's proposed budget cuts to both the National Institutes of Health and the National Cancer Institute.
ASPHO Supports Peer Reviewed Cancer Research Program
ASPHO joined the Alliance for Childhood Cancer in supporting the Peer Reviewed Cancer Research Program, part of the Congressionally Directed Medical Research Program administered by the Department of Defense. This program has supported innovative research in cancers designated by Congress as relevant to those in military service and their families. This letter encouraged Congress to fund the program in fiscal year 2020 at $120 million. Additionally, the letter supported creating a $30 million program to fund research related to cancer in children, adolescents, and young adults.
ASPHO Supports Funding for Pediatric Reference Intervals
ASPHO supported a letter that asked for appropriations funding to create pediatric reference intervals from existing samples from the National Health and Nutrition Examination Survey. This funding would help create a more standard reference interval for a more accurate diagnosis, particularly for pediatric patients who are unable to discuss their symptoms.
Cancer Drug Parity Act of 2019 Introduced
H.R. 1730/S. 741, the Cancer Drug Parity Act of 2019, was introduced March 13, 2019, in the House and March 12, 2019, in the Senate. This bill would require that health insurance plans cover oral anticancer therapy drugs at a no less favorable rate than coverage for other anticancer medications administered by a health care provider. Oral anticancer medications may increase patient access to anticancer drugs and may increase patient quality of life, as oral anticancer drugs can be administered at home.
Medicaid Services Investment and Accountability Act of 2019 Passed
H.R. 1839, the Medicaid Services Investment and Accountability Act of 2019, was signed into law on April 18, 2019. This bill would allow states to provide medical assistance for care coordination provided through a health home for children with chronic conditions. Blood diseases, such as sickle cell disease and anemia, are specifically defined as a chronic condition that would be eligible for care coordination assistance. This bill will help Medicaid's sickest children while working to lower costs.
For more information on our coalition partners and activities here are some helpful links:
American Society of Hematology
American Academy of Pediatrics
Please visit our Health Policy & Advocacy website section for past issues of Advocacy Brief.