June 2014
In This Issue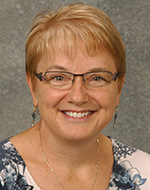 President's Message
Welcome, President Hilden
Q&A with ASPHO's New President
Joanne Hilden, MD
What is your vision for ASPHO during the next two years?
During my career, I have had the good fortune to work at organizations that were committed to increasing the number of practitioners and program offerings in the field of pediatric hematology/oncology and bone marrow transplantation, constantly strived for excellence, and always focused on doing what is best for patients. At the same time, these organizations concentrated on perfecting the basics of practice and maintaining a strong organizational infrastructure to sustain the gains. This is how I see ASPHO.
I've served on the board, participated in committees, and led the Professional Development Committee in the effort to address the professional needs of hematologists/oncologists at every stage of their careers. From this vantage point, I see an organization that has the best interest of its members (and, therefore, their patients) at the forefront and is always working to improve its service to members while keeping an eye on the basics.
My vision for ASPHO includes being nimble and ready for change. We have all seen big change coming in health care, and with the arrival of the affordable care act and other legislation, it is truly here. I recently heard the comment "it feels like healthcare professionals are in survival mode." In a sense, this has always been true, though it seems much more accurate now. The only constant is change. I see ASPHO as an organization that has a mandate to help its members be prepared for change. That could mean ramping up our maintenance of certification programs so members spend less time being frustrated with it and more time attending to research and patient care. It could mean ramping up our career development efforts for the various phases of hematology/oncology careers. We have certainly made an effort to increase the invaluable scientific content of the annual meeting thanks to the hard work of the Program Committee, further educating and preparing our members to serve their patients. Above all, it means finding ways to listen to every member to determine his or her needs.
What do you feel are the greatest challenges facing ASPHO as an organization?
One of our biggest challenges is also our greatest asset: our diversity. We are made up of many kinds of members, from many kinds of institutions. Basic scientists, clinical researchers, experts on education, pure clinicians, hematologists, brain tumor specialists, transplanters, generalists, palliative care specialists, old, young, mid-career, people changing careers, people finishing careers, people beginning careers. Stand-alone pediatric hospitals, private practices, academic institutions, merged adult/ped hospitals. Places with residents and fellows, places without them. Fully funded investigators and investigators between grants. People from various countries. The list goes on and on. I can tell you that ASPHO's leaders (including ASPHO's amazing staff) want very much to meet the needs of every member. We want to be the professional organization that helps our members improve their practice and connects them with colleagues with similar interests. We need to figure out how to get that information without "surveying people to death." We are smart enough to figure this out. And we are obligated to. ASPHO's diversity gives us access to so much brainpower. We need to harness it.
How will you build on your predecessors' agendas and accomplishments?
I salute ASPHO's past presidents. Their leadership has built a thriving organization. I want to maintain the incredible momentum of the recent past presidents. Bill Woods, MD, laid the groundwork for continued progress in sickle cell disease, which the Advocacy Committee continues to foster. Holcombe Grier, MD, oversaw ASPHO's first independent annual meeting, after separating from PAS, and led program directors to partner with ASPHO by establishing the Training Committee. Jeff Lipton, MD PhD, encouraged us to focus on the various stages of a hematology/oncology career. I had the privilege of leading that effort with the Professional Development Committee, and that group continues to advance the work. Kim Ritchey, MD, focused on international membership and certification and MOC issues, which I will continue to prioritize. Most importantly, all four of these presidents concentrated on strategic planning, which emphasized a number of areas to work on, all of which have momentum. I see it as my job to not change too much and let these groups continue their fantastic work.
In your candidate statement, you mentioned championing the needs of smaller institutions as well as young investigators. Can you elaborate on this a bit? What are the specific challenges these two groups face?
I have worked at every size institution there is, and through that experience I have gained an understanding of the diversity of hematology/oncology professionals and the various challenges unique to each kind of practice. In the current economy, smaller institutions struggle because they don't have economies of scale. For example, during the Late Career Transitions in Pediatric Hematology/Oncology session at ASPHO's 27th Annual Meeting in Chicago, the challenges of transitioning senior members of the practice when they cannot do as many night/weekend call as other colleagues were discussed. Larger institutions can allow docs to "age out" of call, and the large number of mid-career and junior faculty can absorb that extra call. Smaller institutions do not have that option.
Early career hematology/oncology physicians face a limited job market. To succeed in a more complex clinical trial environment, those interested in clinical research are required to do more focused training than in the past. Those conducting basic research have a more challenging funding environment than those who came before them. ASPHO has an excellent track record in maintaining programming for early career hematologists/oncologists. Please urge your fellows to join ASPHO and remain members throughout their early careers so that we can continue this important work.
Is there anything in general you would like to say to the members as your term as ASPHO president begins?
This is going to sound rather simple, and it's going to sound like my mother and yours. Stay positive. Stiffen your spine and face the future with a "can do" attitude. Smile at those around you; it's contagious. (It is as contagious as negativity and you know which one feels better.) Read the leadership literature and focus on how to develop leadership skills in yourself. It will make your career better, your institution better, and the people around you better. It will make ASPHO better. You, your colleagues, ASPHO, and your patients will benefit. Here comes the future. We can do this.
---
Membership News
Help ASPHO Better Serve You
In an effort to better understand your professional needs as a member, and to make the best and most informed decisions on ASPHO programs, products and services, ASPHO is in the process of collecting updated information from its members.
You will notice that as you log-in to the ASPHO website to register for a meeting, make a purchase, etc., you will be greeted by a brief message and an easy-to-use form requesting some brief professional information. To proactively be sure that your professional information is up-to-date, you may also simply click here and update it. The form is pre-populated with your existing information, making ease-of-update a snap (or shall we say a click).
Once you update your information, you will not be prompted to do so again for six months. The goal is to keep our pediatric hematology/oncology members' professional information as up-to-date as possible in order to have an accurate assessment of ASPHO's professional make-up and provide the best services, information and value to all members.
We thank you in advance for your help!
Treasurer's Report: 2013 Audited Year-End Results and 2014 Outlook
Ellis Neufeld, MD PhD, ASPHO Secretary-Treasuer
2013 Results
The details of the 2013 year-end results were presented to members at the Chicago meeting and are reported below for those who were not in attendance.
The following chart compares the 2013 actual results to the budget and to 2012 results. It is important to note that the biannual review course causes significant variation in revenue and expense year over year, and 2013 was a review course year. The positive variance over budget was attributable to increased registration and sponsorship for both the course and the annual meeting.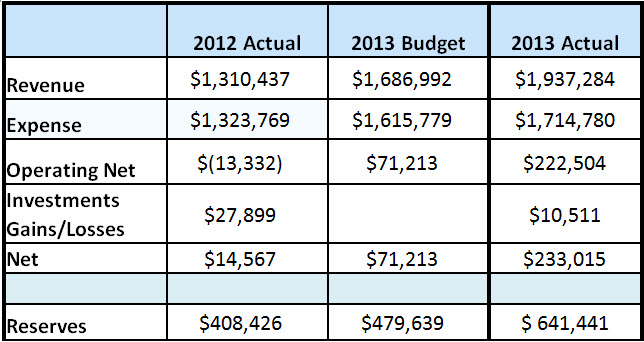 The society's reserves are within benchmarked range for healthcare associations of our budget size, and are sufficient to support operating expenses for 4 months.
Sources of Revenue
The society's revenue streams include member dues, registration fees, grants and sponsorships, exhibits, and advertising. The chart below illustrates the percent of revenues derived from each source in 2013.
Proceeds from membership, the annual meeting, and review course are used to offset the volunteer and administrative operations as well as those programs that do not produce revenue.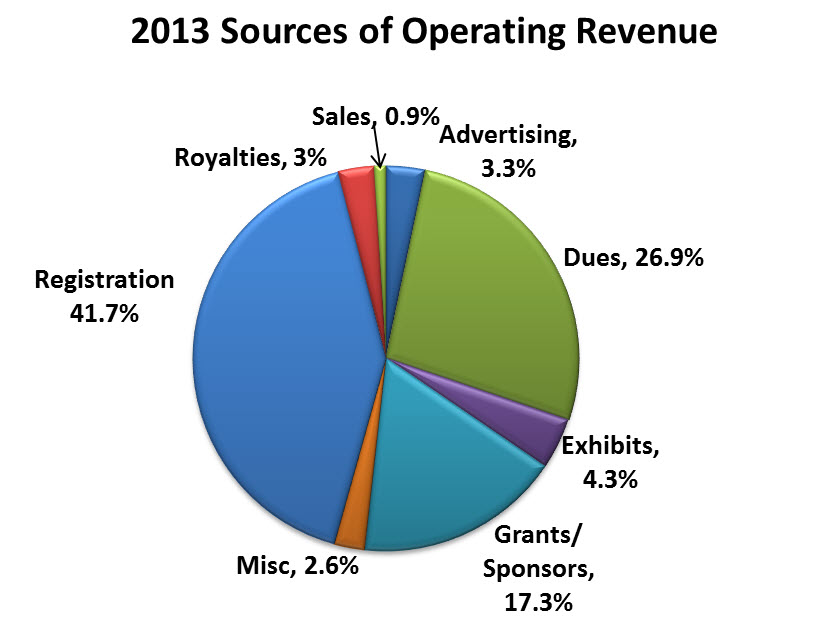 2013 Expenses by Program
The annual meeting requires the largest share of resource dollars annually, followed by the general administration costs of running the organization.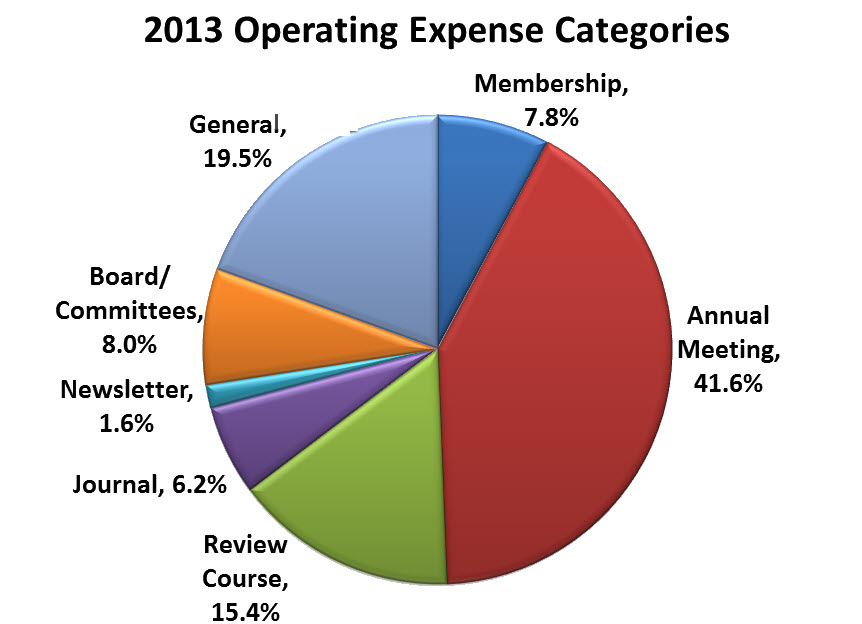 2014 Budget and Forecast
The 2014 budget estimates a year-end net of $82,506. At this time, all indications are positive and the society anticipates meeting or exceeding the budget.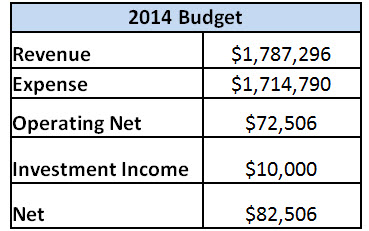 ASPHO Creates Early Career Council

The Early Career Council met for the first time at the ASPHO 27th Annual Meeting. The new council, which includes early career representatives from each of ASPHO's committees, met with ASPHO leaders to discuss the vision and goals of the council. Early career volunteers indicated their interests in committee participation at the 2013 meeting. ASPHO followed up with them to request additional information and then paired respondants with appropriate committees (two per committee). Subsequently those 20 individuals were brought together to form the Early Career Council.
The purpose of the ASPHO Early Career Council is to engage early career members (defined as those that are up to 5 years post-fellowship) to serve in an advisory capacity to ASPHO's board and committees as they make decisions and plans for the future of the organization, ensuring the needs and preferences of this membership segment are represented. The council will also provide a forum for early career professionals to receive guidance during a crucial time in their career trajectory.
During the meeting, representative members of each ASPHO committee discussed the current aims and objectives of their respective committee. Members of the Early Career Council provided insight into these aims and objectives from the perspective of trainee and young career members that can be taken back to the respective committees to help inform specific next steps. The council also explored important topics pertinent to young members, including employment and career planning, student loan repayment and financial management, and peer mentoring and networking. In the short term, the Early Career Council is looking to work with ASPHO committees and administration to create a Listserv specifically for pediatric hematology/oncology fellows and early career members to use as a forum for communication. The council is excited about this opportunity to work hand-in-hand with ASPHO leadership.
If any members have a specific idea or suggestion for areas of interest they would like the ASPHO Early Career Council to consider, please e-mail This e-mail address is being protected from spambots. You need JavaScript enabled to view it or This e-mail address is being protected from spambots. You need JavaScript enabled to view it .
Enriching the Future Campaign to Meet Emerging Needs in Education
The focus of the Enriching the Future campaign is to develop new awards and funding to support members' professional success and to grant new training and collaboration opportunities to members' institutions. Through the support of your donations, ASPHO will develop responsive and creative programs to directly benefit both individuals and pediatric hematology/oncology programs. The inaugural campaign will fund new clinician educator awards, travel grants, and visiting professorships.
At ASPHO's annual meeting, Dr. Kim Ritchey highlighted the goals of the campaign during his presidential address. ASPHO has already raised 40% of the $150,000 goal for the Enriching the Future campaign through support from ASPHO members.
Learn more about the campaign and how you can give today to enrich the future of pediatric hematology/oncology.
Diversity Corner
NIH-Sponsored Diversity Special Interest Group (SIG) Travel Awards at the 2014 ASPHO Annual Meeting
Theodore Johnson, MD PhD
During the open-space networking session of last year's Diversity SIG Workshop at the 2013 ASPHO Annual Meeting, one of the most common suggestions from attendees was to expand the trainee travel sponsorship to include underrepresented junior trainee medical students and residents. This year, we were very excited to receive National Institute of Health (NIH) funding for travel stipends for two medical students—one pediatric resident and one clinical fellow—to attend ASPHO's 27th Annual Meeting and the 2nd Annual Diversity SIG Workshop in Chicago. Sponsored trainees were selected from 13 highly qualified applicants through a competitive application process based on the following selection criteria: (1) demonstrated contributions to diversity initiatives, (2) demonstrated potential for leadership, and (3) demonstrated interest or involvement in the field of pediatric hematology/oncology (work product, on-going projects, volunteer work, personal history, etc). Each junior trainee travel award recipient was paired with a faculty guide, who was available to provide orientation, guidance, and social interaction for the duration of the 2014 annual meeting.
These faculty guides were Maria Velez, MD, Paul Kent, MD, and Vandy Black, MD MSc. They assisted the trainees in maximizing their conference experience by encouraging them to attend sessions relevant to their career or scientific interests, search the abstract database for platform sessions and posters of interest, and attend trainee-oriented sessions such as early career sessions and poster/platform sessions.
The 2014 Diversity SIG Travel Award recipients were
Denise Gamble, first-year medical student, Philadelphia College of Osteopathic Medicine, Suwanee, GA
Leonela Villegas, BS, second-year medical student, Vanderbilt University, Nashville, TN
Rochelle Hartley, MD, third-year resident in pediatrics, Children's Hospital at Montefiore, Bronx, NY
Sucharita Bhaumik, MBBS, second-year fellow in pediatric hematology/oncology, Children's National Medical Center, Washington, DC.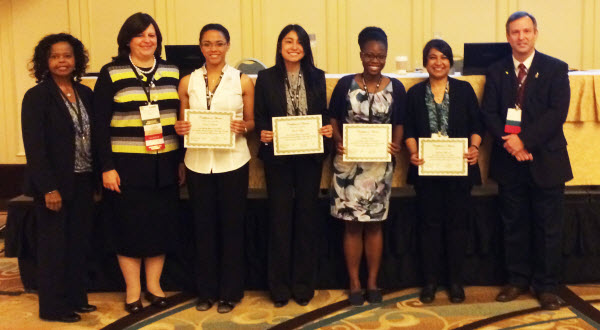 Pictured: Betty Pace, MD, Sarah Vaiselbuh, MD, Denise Gamble, MD, Leonela Villegas, BS, Rochelle Hartley, MD, Sucharita Bhaumik, MD, and Ted Johnson, MD PhD.
In Their Words
Leonela Villegas, BS
The ASPHO travel scholarship offered me remarkable and unforgettable opportunities. I was able to gain knowledge as a medical student, future resident, and future mentor―surrounded by a group of empowering pediatric hematology/oncology physicians. With the help of Dr. Vandy Black, my ASPHO mentor, I was able to tailor the conference workshops and lectures to fit my interests and meet many of his fellow teachers and colleagues. I was fortunate to have been introduced to such an approachable, engaging, and influential group. Over a dinner while in Chicago, we discussed various topics, ranging from what makes a great applicant for a pediatric residency to interesting, unique cases they have experienced. I plan on keeping in touch with many of the contacts I made during the conference and am excited to know that I have a network of people who are going to be my support system as I continue my career in medicine.
I also enjoyed getting to know the other three award recipients and Dr. Ted Johnson, cochair of the ASPHO Diversity SIG. Without the travel award, I would not have been able to attend or be a part of the Diversity SIG breakfast. It was enlightening to hear about the NIH PRIDE program (Betty Pace, MD) and the special programs around the country aimed at recruiting and mentoring underrepresented physicians into pediatric hematology/oncology. It was great to be included in the discussions, especially on the topic of how to include trainees in more diversity activities and programs. We brainstormed as a team and brought forth ideas that hopefully will engage others further down the pipeline at a premed student level. Again, I want to thank ASPHO and everyone who made this opportunity possible and look forward to seeing this program grow.
Sucharita Bhaumik, MBBS
Thank you for this wonderful opportunity to participate in the 2014 ASPHO Annual Meeting. I enjoyed listening to discussions pertaining to cutting-edge clinical and translational research, updates for current clinical trials, as well as learning evidence-based management strategies of various cancers and blood disorders. The different questions posed during the meeting were very exciting and have reinforced my love for this field. I attend conferences because they help me identify current and future trends in the field and allow me to interact and exchange ideas with both peers and more experienced professionals. Attending the session for developing leadership skills for early career professionals was very inspiring and a good opportunity to learn about leadership challenges. The poster sessions were interesting with cutting-edge research happening in different institutions across the country. The Diversity SIG Workshop gave me a unique opportunity to network and exchange ideas with people who are committed to bringing diversity and promoting mentorship in this field―be it in support of professionals at different stages of medical training or in support of improved patient care or access at a community and ultimately global level. I hope to continue to be a part of this team and contribute to exciting progress in the field of pediatric hematology/oncology.
Acknowledgment: Funding for the Diversity SIG Travel Awards was provided by a grant (1 R13 CA186656-01) from the National Cancer Institute. The views expressed in written conference materials or publications and by speakers and moderators do not necessarily reflect the official policies of the Department of Health and Human Services; nor does mention by trade names, commercial practices, or organizations imply endorsement by the U.S. Government.
---
Education and Professional Development
Case Quiz: Managing Pediatric Deep Vein Thrombosis
Guy Young, MD
A 17-year-old female volleyball player arrived at the emergency room with complaints of pain and swelling in her left leg.
Highlights from the 2014 Annual Meeting
ASPHO's 2014 Annual Meeting brought an exceptional selection of educational programming and networking events to more than 1,000 attendees. Attendees from 47 states and 35 countries gathered at the Palmer House Hilton for the 27th Annual Meeting, May 14–17.
Education
This year's educational program included 11 symposia, 12 workshops, three SIG meetings, three poster sessions with more than 300 posters, and four platform sessions.
At the annual State of the Society address, ASPHO Past President A. Kim Ritchey, MD, highlighted the many successes ASPHO had throughout the year in advocacy, international initiatives, membership, and education. The update was followed by the Presidential Symposium on the future of pediatric hematology. The symposium was well received and highlighted emerging gene therapies, the pathophysiology of hemoglobinopathies, and fetal hemoglobin.
The annual awards ceremony featured Distinguished Career award winner Beverly Lange, MD, and the Frank A. Oski Memorial Lecture award recipient Scott Armstrong, MD PhD.
For the second year, a group of ASPHO attendees took advantage of the optional Maintenance of Certification (MOC) Learning Session. The MOC session was designed to facilitate completion of ABP's Lifelong Learning and Self-Assessment MOC requirement.
If you missed this year's meeting, purchase the 2014 Annual Meeting DVD, which includes synchronized audio recordings and slides from the workshops, symposia, and platform sessions delivered at the annual meeting.
For Early Career Attendees
The Early Career Council convened for the first time during the annual meeting. The council comprises early career representatives from each of ASPHO's committees. The purpose of the Early Career Council is to engage early career members to serve in an advisory capacity to the society, board, and committees in regard to their particular needs and perspectives.
In addition, the annual meeting included a program of specific sessions aimed at early career members, including a scholarship workshop, roundtable luncheon, coffee corner, leadership skills symposium, and young investigator award lectures.
A Run in the Rain
ASPHO hosted a 5K run/walk for annual meeting attendees on Thursday, May 15. Approximately 40 runners braved the cold weather and rain to run along the Chicago lakefront. Congratulations to the following top three finishers: Thomas Russell, MD (first place), Chinni Pokala, MD (second place), and John Fargo, DO (third place). ASPHO would like to thank the University of Chicago Medicine Comer Children's Hospital for sponsoring the run/walk.
Exhibit Hall
This year's exhibit hall featured 43 exhibitors, 12 of which were new to the meeting and provided attendees access to state-of-the-art products, services, and information pertinent to the demands of pediatric hematology/oncology. For a second year, ASPHO also hosted a highly successful Passport Program in the exhibit hall, handing out 12 prizes, which were donated by participating Passport Program exhibitors.
Thank you!
The ASPHO 27th Annual Meeting would not have been a success without the dedication of ASPHO volunteers.
ASPHO would like to extend a sincere thank you for the Program Planning Committee, chaired by Doug Graham, MD PhD, for all their hard work in selecting this year's educational programming. ASPHO also would like to thank the many faculty members who donated their time and expertise to speak at this year's annual meeting.

ASPHO hopes that attendees were able to take away pertinent findings and connections that will advance clinical care treatment for children and adolescents with blood disorders and cancer.
Visit ASPHO's Facebook page to view highlights from this year's meeting!
See you in Phoenix!
ASPHO hopes to see you and your colleagues at next year's annual meeting in Phoenix, May 6–9, 2015.
Obtain Your Annual Meeting CME Certificates
Don't forget to complete your 27th Annual Meeting evaluations and print your certificate for your continuing medical education (CME) credits. We value your input and appreciate your feedback.
Evaluations also are available for those who attended the 2014 PBMTC Educational Program that was held in conjunction with ASPHO's annual meeting on Wednesday, May 14.
Purchase the 2014 Annual Meeting DVD
Were you unable to attend this year's annual meeting and interested in hearing this year's speakers? Purchase the annual meeting DVD to increase your knowledge and understanding of current research data and its application to clinical practice. Purchase the DVD for only $99!
The DVD includes
45 hours of synchronized audio recordings and slides
five platform sessions
11 symposia
12 workshops.
2015 Call for Workshops
If you are interested in presenting at next year's annual meeting in Phoenix, May 6-9, the 2015 Call for Workshops is now open.
Proposals may focus on specific disease, clinical trial updates or professional development.
The Program Committee highly encourages topics in the following areas:
Platelet Disorders (ITP)
LCH (Langerhans Cell Histiocytosis)
HLH
Relapse Disease
Neutropenia



Neuroblastoma
Supportive Care
Solid/Rare Tumors
Clinical Research/Design
Ethics
Palliative Care
The 28th Annual Meeting program will include eight workshops to be selected by the ASPHO Program Committee from among the proposals submitted by members.
Proposals are currently being accepted until Monday, August 4.
Coming in 2015: Pediatric Hematology/Oncology Review Course
Mark your calendars for February! ASPHO's Pediatric Hematology/Oncology Review Course will be held in Dallas, February 5–8.
The review course is designed for
physicians planning to take the American Board of Pediatrics (ABP) examination for initial certification in pediatric hematology/oncology
those preparing for Part 3 of ABP's Program for Maintenance of Certification in Pediatric Subspecialties
fellows in training and practitioners desiring a comprehensive update of the field.
Additional information regarding the 2015 Review Course will be available in late summer on ASPHO's website.
---
Announcements
Apply for a Young Investigator Grant from CureSearch for Children's Cancer
CureSearch for Children's Cancer is accepting applications for six Young Investigator Grants. The Young Investigator Pathway to Independence Grants are funded at $225,000 each over three years and will be available in the areas of neuroblastoma, palliative care, rhabdomyosarcoma, and three open areas. Open applications may be in disease or discipline areas of pediatric oncology and will be based on the merits of the research proposed, the productivity of the applicant, mentorship, and environment. Awards will be announced in October 2014 and funding will begin in January 2015. For those interested in applying, RFAs are available on proposalCENTRAL.
LOI Deadline: June 20
Full Proposal Deadline: September 12
A list of additional funding opportunities can be found on ASPHO's website.