June 2013
In This Issue
President's Message
A. Kim Ritchey, MD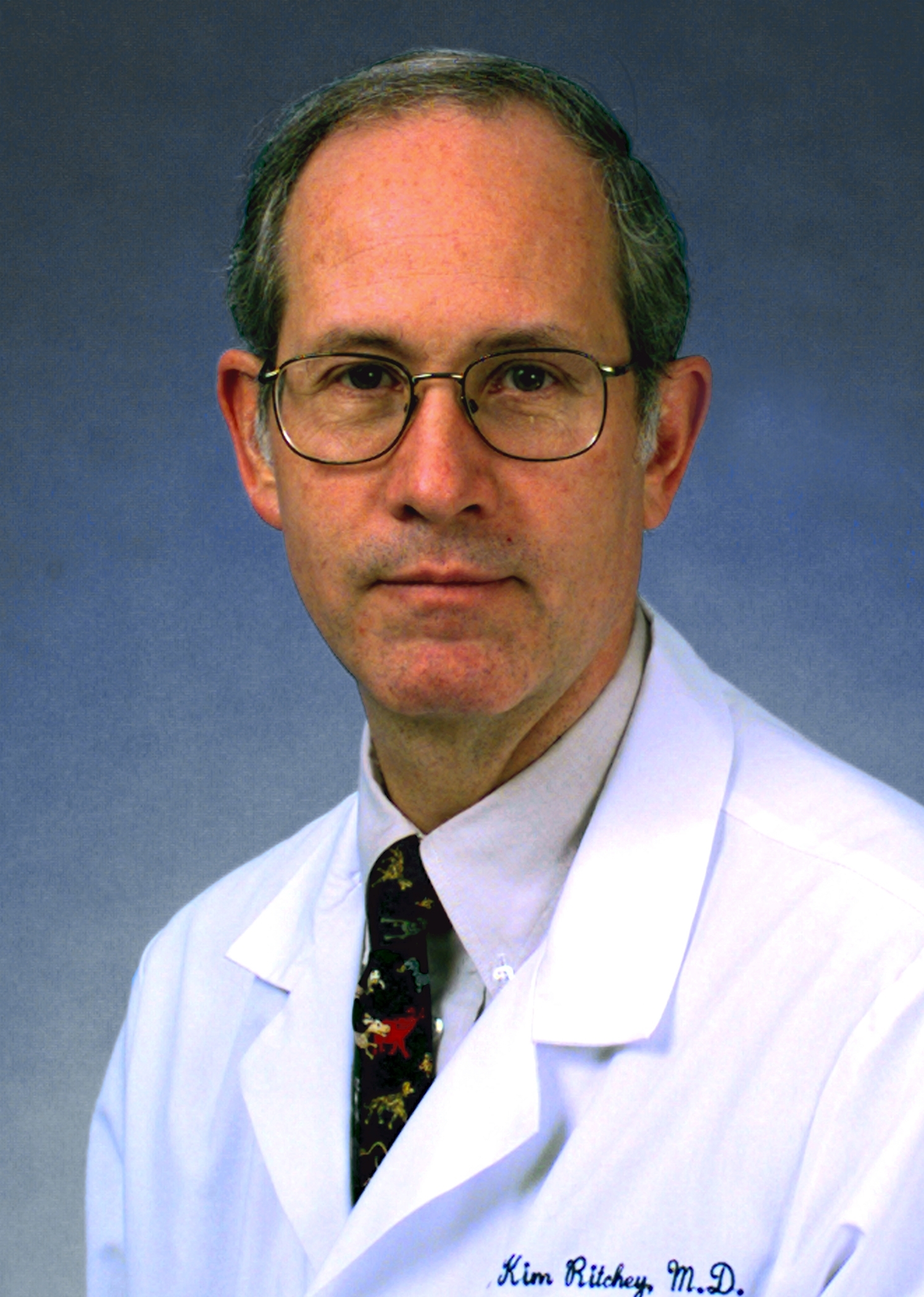 After a taste of wonderful warm weather in Miami, we in the North are finally getting outside and enjoying freedom from cold. Those of you in the South, on the other hand, may be driven back inside to the air-conditioning. It is also a time for children to get out of school, vacations, and hopefully some relaxation time. Enjoy the season.
Now is also an important and often anxiety-provoking time of transition for fellows: newly minted fellows just starting what is likely to be the most rigorous year of their career; now-seasoned fellows about to launch into research and scholarly work, which for many will be a new experience; and finally the graduating fellows beginning their new careers as attending physicians. Although I am biased, I think our fellows are the most dedicated and hard-working trainees in pediatrics. They bring to the field an eagerness to help children with cancer and blood diseases and a desire to generate new knowledge that sustains us in our pursuit of cures and the best care for our patients. ASPHO has recognized the importance of fellows and fellowship training in a number of ways: the Training Committee (Patrick Leavey, MD, chair), which is currently working diligently to help program directors enter the New Accreditation System; special sessions and events at the annual meeting for fellows (symposia, career workshop lunch, coffee corner); and free membership in our Society, with reduced fees offered for the year after fellowship. There are 151 new fellows who matched to our field this year. We all have the responsibility to make sure they get the needed support to ensure a successful clinical and scholarly career. Of course, we want them all to become ASPHO members!
I must spend a few minutes on the outstanding success of our 26th Annual Meeting in Miami. If you were not able to attend, you missed a great one. Here are just a few highlights you might find interesting:
1,025 total attendees—a new record!
Attendees from all over the world—45 states and 31 countries
168 international attendees
Prior to the meeting, a highly successful Pediatric Bone Marrow Transplant Consortium meeting
Three new special interest group (SIG) meetings
Great workshops and symposia
Frank A. Oski Memorial Lecture given by Jorge DiPaola, MD
Distinguished Career Award presented to Gregory H. Reaman, MD
The opportunity to get instant credit for Part II of ABP Maintenance of Certification
44 exhibitors
4 corporate forum supporters, 6 educational grant supporters, and 12 annual meeting supporters
The meeting offered the perfect opportunity to reconnect with colleagues and friends. The success of this meeting belongs to many people, but especially to the presenters who provided us with just the right information; the hard-working members of the Program Committee, led by Doug Graham, MD PhD, and Dan Wechsler, MD PhD; and the invaluable ASPHO staff who pulled it all together and ensured that it ran smoothly. I hope you are all planning to attend our next annual meeting in Chicago—the "home" of ASPHO.
One final word: we are always looking for ways to improve ASPHO's service to members and to our patients and families. By now you should have received a personal invitation to complete an ASPHO Membership Needs Assessment Survey. We hope this survey will provide us with your ideas about how to improve, enhance, and innovate as we prepare for the future. While I am appreciative of the many demands on your time, I encourage you to complete the survey if you have not done so already. The survey closes on Tuesday, June 18, so don't delay.
Have a great summer!
---
Announcement
NIH Grant Sequester
In March an order initiating sequestration was signed. The sequestration requires all federal agencies to cut 5% of their 2013 budget. In the case of the National Institutes of Health (NIH) that amounts to $1.55 billion of its fiscal year 2013 budget. The NIH must apply this cut evenly across all programs, projects, and activities, which means that every medical research field will be affected.
In response, the NIH released its fiscal operation policy for the remainder of the year (FY2013). More than 80% of the NIH budget goes to more than 300,000 researchers at more than 2,500 universities and research institutions. The cuts will affect every medical research area.
Quick Facts
There will be 700 fewer competitive research grants, compared with 2012.
Approximately 750 fewer new patients admitted to the NIH Clinical Center, compared with 2012.
There will be no increase in stipends for National Research Award recipients in FY2013.
Many institutes will cut ongoing (continuation) awards.
How does this affect your research?
Pediatric hematologists/oncologists work with multiple institutions, so we provided links (listed below) to those institutions who have responded to the sequester.
Information provided by the NIH.
---
Case Quiz
A 16-Year-Old with Back and Leg Pain
Monica Khurana, MD, and Caroline Hastings, MD
A 16-year-old female presents with 4 days of right lower back pain that radiates to the right groin and thigh. She describes the pain as burning and attributed to "[excessive] walking at the amusement park." She develops subsequent shortness of breath and dyspnea on exertion for 1 day and seeks medical attention. Review of 10 systems is positive for dizziness.
---
Membership News
Treasurer's Report: 2012 Year End and 2013 Outlook
Ellis Neufeld, MD PhD, ASPHO Secretary-Treasurer
ASPHO annually reports its financial position to its members. This information was presented at the 2013 Annual Meeting in Miami and is repeated in this newsletter issue for those who did not attend the meeting.
The chart below compares the 2012 budgeted and actual results with the 2013 budget. It is important to note that the biannual Review Course causes significant variation in revenue and expense year over year. Note the growth of ASPHO's reserves, which has been a focus of the Finance Committee in recent years. Although reserves are not at the ideal level, the positive trend is encouraging.
2012 Results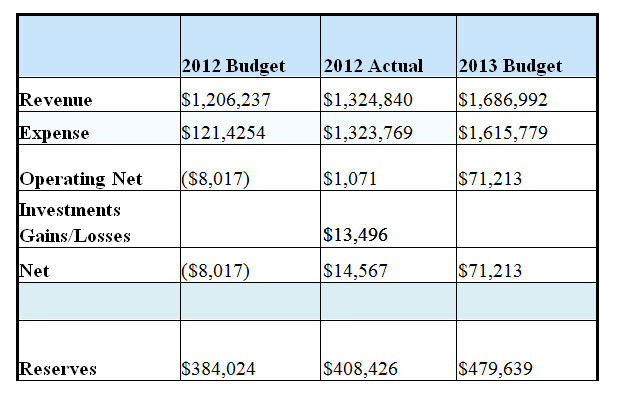 Sources of Revenue
The Society's revenue streams include member dues, registration fees, grants and sponsorships, exhibits, and advertising. The chart below illustrates the percent of revenues derived from each source in 2012. ASPHO continually seeks to diversify its revenues and grow revenue from grants and sponsorship to provide for new programs without overtaxing members.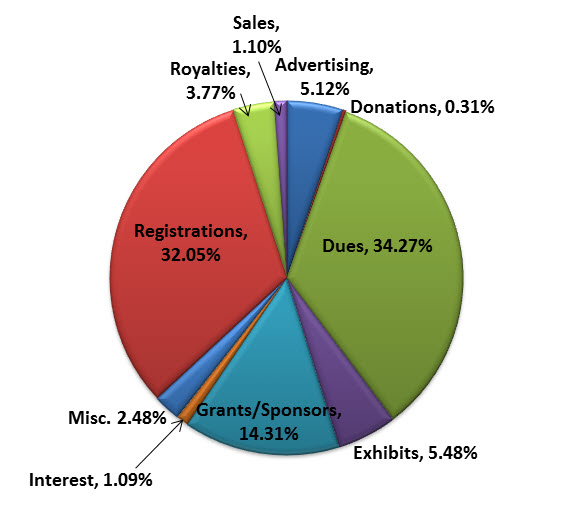 2012 Expenses by Program
The annual meeting requires the largest share of resource dollars annually, followed by the general administration costs of running the organization.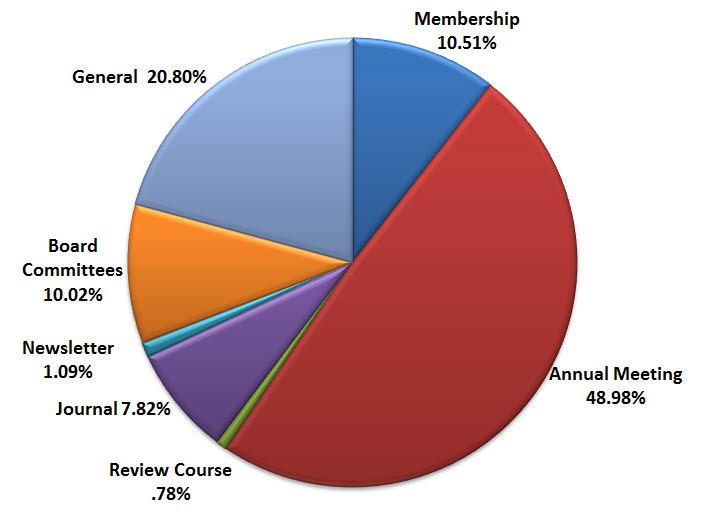 Recent Actions Taken and Progress Made on Behalf of Members
ASPHO continues to build upon its commitments to pediatric hematology/oncology and to its mission of promoting optimal care of children and adolescents with blood disorders and cancer.
Click here to view highlights of recent accomplishments from ASPHO.
ASPHO Member-Only Access Outage
Due to a software upgrade, the members-only section of the website, the online store, the member community, and member accounts will be unavailable June 26–27. This upgrade will not interfere with the public pages of the ASPHO website. We apologize for this inconvenience. Should you have any questions, please contact ASPHO Member Services at 847.375.4716.

Member Benefit: Special Interest Groups
ASPHO permits members to establish special interest groups (SIGs), providing forums for members with similar interests and challenges to easily interact with each other and develop extended resource bases. ASPHO SIGs are open to participation by any ASPHO members.
SIGs will meet annually at the ASPHO meeting.
Current SIGs include
To receive more information on SIGs, visit the SIG webpage or contact This e-mail address is being protected from spambots. You need JavaScript enabled to view it
Diversity Corner
Reflections on the 2013 Diversity Special Interest Group Workshop
Eduvigis Cruz-Arrieta, PhD
This year, I attended ASPHO's Annual Meeting in Miami, FL, where great weather and hospitality converged to make its Diversity Special Interest Group (SIG) workshop—led by Theodore Johnson, MD PhD; Sarah Vaiselbuh, MD; Ernest Frugé, PhD; Kathleen M. Sakamoto, MD PhD; and Elizabeth Travis, PhD—a successful endeavor, full moon included.
The workshop provided an opportunity for one-to-one interactions with colleagues at different stages of their careers. We shared curiosity about and commitment to the idea of diversity. We listened to descriptions of the barriers to effective networking for women and minorities and explored strategies to overcome them. I could barely contain my excitement as I recognized familiar themes, which I learned of while attending college in the 80s: the lack of representation of women in top positions across many fields, the lack of diversity in the sciences, salary discrepancies, and how socioeconomic class and race impact one's lot in life. That was before I experienced firsthand what the word "minority" meant upon arriving in the mainland United States from Puerto Rico to begin doctoral studies in psychology.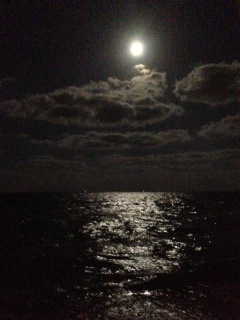 Photo by
Sarah Tannenbaum, MD
Working within the Children's Oncology Group (COG) Minority Affairs Committee's mission to recognize health disparities, I have learned about issues related to gender, ethnicity, and race, and the minority pediatric cancer patients enrolled on COG studies. I have been asking questions about how to improve minority patient and practitioner participation in these studies. I am often one of few Latinas in my field of expertise sitting in local and national meetings, unless I am attending events with a diversity or minority focus. As I listened to the Diversity SIG workshop presentations, the faces of those from different backgrounds, encouraged me when I did not believe I could work with hematology/oncology and bone marrow transplant patients, and challenged me to look into these topics flashed through my mind. Feelings of gratitude followed. At the end of the workshop, I felt a sense of renewed commitment to seek from and provide to others not only mentoring but sponsorship. To say yes to all opportunities related to the goals of increasing diversity; to use all paths of information sharing and maintain productive networks, while avoiding "picking up the broom" when it is not necessary.
At the table, I shared delicious Cuban cuisine with Dr. Maria C. Velez, co-vice chair of the COG Minority Affairs Committee and fellowship program director at the Louisiana State University Health Sciences Center and Children's Hospital; and Dr. Kerice A. Pinkney, a second-year fellow at Columbia-Presbyterian and this year's recipient of the Diversity SIG Trainee Travel Stipend funded by the National Institutes of Health R13 program. They share their thoughts with us below.
María Velez, MD
As with many of my friends and colleagues, the concept of diversity was not part of my curriculum in medical school; it was not even a thought until my first year of fellowship. A workshop with a famous female surgeon brought up the idea of how different the career paths are for male and female physicians. Many years have passed since that first, eye-opening revelation. My observations do not make me an expert in this topic and by no means do I pretend to know more than any other female colleague. What I write here is just a reflection of what I think is the best I can do to help my female (and some male) mentees in 21st century academic medicine.
Many of us know how to mentor junior faculty; we need to learn how to sponsor them into the spotlight. Sponsoring others means knowing when it is time to step back and let them take the lead. It means acknowledging that they are ready to speak up and be heard. In my experience, female physicians in leadership positions seem to have a harder time sponsoring other females when compared with our male counterparts. If a female physician comes from a small institution and is trying to make her own path, it seems even more monumental to be recognized and sponsored. A gigantic step in broadening our concept of diversity should be considering being more inclusive of members from different geographical regions within medicine in general and our subspecialty in particular.
The confidence to accept leadership challenges and positions needs to be nourished in every ASPHO member, but especially in women. Recognizing their strengths and weaknesses provides the tools to promote the individual's work, ideas, and results. Workshops and networking are examples of some of the venues that help build these tools. However, there are still numerous barriers that only organized bodies like ASPHO can help eliminate. The differences in salary and compensation between males and females, the scarce number of females in leadership positions (reflecting, in part, bias that a male can do the job better than a female counterpart), and skills in the negotiation of academic contracts are some of them.
Progress continues to occur in leaps, which means that we continue to develop new mechanisms of support and promote the professional development of all of our members. We should emphasize sponsorship of women at all academic levels and ranks as well as of men who might benefit from these efforts and initiatives.

Kerice A. Pinkney, MBBS
Mentorship has been key in my journey to becoming a successful pediatric hematology oncologist. As a second-year fellow, I can attest to the impact strong female role models have had on my career choice and development. From being introduced to the joys of being a clinician while working in my pediatrician's office while in high school to exploring clinical and bench research at my home institution, I have benefitted greatly from the path woman before me have forged. I was honored to receive a trainee travel stipend to attend the ASPHO Diversity SIG workshop, and was privileged to take part in the Diversity SIG forum. I spoke candidly about my experience in medicine as an individual who is both a women and a minority. Although women have continued to have an unmistakable voice in the field, the presence of minority role models has been a less frequent occurrence. As ASPHO continues to grow and as the new generation of clinicians and scientists emerges, it behooves us all to invest in the growth of a diverse community through outreach to medical students and residents from a variety of underrepresented backgrounds. It is vital to expose individuals to the field and to encourage those who may be considering the subspecialty of pediatric hematology/oncology to join. I remember vividly my first ASPHO meeting as a second-year pediatric resident. My attendance was facilitated by my residency program and an amazing oncology attending, who was neither a woman nor a minority.
Although I was certain that I wanted to join this remarkable field since my early years in medical school, the meeting in Baltimore was completely re-energizing and just awesome! Being surrounded by individuals who were doing what I wanted to do, listening to lectures on topics I was already intrigued by, being surrounded by the wealth of knowledge I wanted to contribute to, I knew this was where I belonged and that I had made the right choice. Although there were not many individuals in the sessions who appeared to come from similar backgrounds, I felt completely at home. In the same manner, exposing others early in their career development to a similar experience would play a major role in enabling women who may be contemplating family versus career, or minorities who may not feel as if this is the right choice, to clearly see that this field is indeed all inclusive. It can only be through outreach, mentorship, and sponsorship that true diversity will exist within our community.
---
Education and Professional Development
Record Attendance at this Year's Annual Conference
More than 1,000 pediatric hematology/oncology physicians and other healthcare professionals attended this year's annual meeting at the Hyatt Regency Miami—by far the most well-attended conference in ASPHO's history. This meeting attracted participants from around the country and the world, with more than 45 states and 31 countries represented. This year's participants were treated to a host of new programs and special events, enhancing the value of this perennially popular conference.
This year, ASPHO teamed up with the Pediatric Blood and Marrow Transplant Consortium (PBMTC) to offer additional education about pediatric bone marrow transplantation before the official start of the ASPHO annual conference. These sessions were highly popular, with more than 200 people participating.
Wednesday was packed full of exciting new offerings for attendees in addition to the PBMTC sessions. There was an energy-filled session on ASPHO's advocacy activities and one of the three new special interest groups (Vascular Anomalies) convened for the first time (Diversity and Palliative Care SIGs met later in the week). All of these sessions produced lively discussion and ideas for future collaborations.
The heart of the conference kicked off with the State of the Society, presented by ASPHO President A. Kim Ritchey. This update on ASPHO's past year was followed by the Presidential Symposium, "2013: The Future of Pediatric Oncology," which was well received and painted an optimistic future for children with cancer but also presented gaps in treatment and the field. Other highlights from the conference included an awards ceremony featuring Distinguished Career Award-winner Gregory H. Reaman, MD, and the recipient of the Frank A. Oski Memorial Lecture Award, Jorge DiPaola, MD.
ASPHO's advocacy alliance with the American Academy of Pediatrics (AAP) paid dividends; it was announced at the conference that the goal of having 100 dual memberships after the first year had been met. Members can expect to hear more about and continue to benefit from this important partnership.
The exhibit hall hosted 44 booths, providing attendees access to state-of-the-art products, services, and information pertinent to the demands of pediatric hematology/oncology. Foundations also had a substantial presence in the hall, giving attendees exposure to potential funding opportunities. This year, ASPHO also hosted a highly successful Passport Program in the exhibit hall.
The conference closed with an optional maintenance of certification (MOC) learning session, which was designed to facilitate partial completion of the American Board of Pediatric's Lifelong Learning and Self-Assessment MOC requirement. Some ASPHO attendees took advantage of the Education in Palliative and End-of-Life Care (EPEC) program that followed the ASPHO conference. From beginning to end, the week offered opportunities to learn and participate in innovative sessions. ASPHO leveraged its partnerships with many professional organizations to provide members and attendees with a wealth of educational opportunities.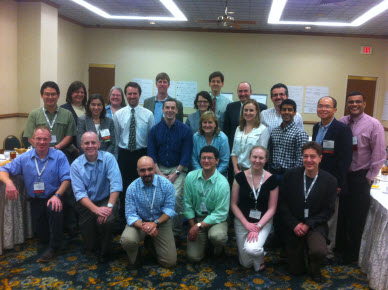 2013 ASPHO Program Planning Committee
We were thrilled with the overwhelming success of this year's event. We want to thank the Program Planning Committee for all of their hard work. They have already started to put together the program for 2014. We also want to thank everyone who attended for making the event so successful. Visit ASPHO's Facebook page to view highlights from this year's meeting!
We look forward to seeing you next year at ASPHO's 27th Annual Meeting in Chicago, May 14–17, 2014.
Complete Your 26th Annual Meeting Evaluations
If you attended ASPHO's 26th Annual Meeting in Miami, don't forget to complete your evaluation and print your certificate for continuing medical education (CME) credits. Click here to complete your evaluations for the Annual Meeting. Click here to complete your evaluations and obtain CME credits for the 2013 PBMTC Educational Program held in conjunction with ASPHO's meeting.
Thank You Conference Supporters and Exhibitors

ASPHO would like to thank our supporters and exhibitors who provided their loyal support during the recent 2013 ASPHO Annual Meeting in Miami. Your participation was a key element in the success of the annual meeting!
Silver Level Supporters
Ron and Kim Hegardt
Kedrion Biopharma

Bronze Level Supporters
Akron Children's Hospital
Cincinnati Children's Hospital Medical Center
Hemostasis and Thrombosis Center at Children's Hospital Los Angeles
Children's Hospital of Pittsburgh
Division of Pediatric Hematology/Oncology
of Dana-Farber/Children's Hospital Cancer Center
Octapharma
The Pablove Foundation
Sanofi Oncology
St. Jude Children's Research Hospital
Stanford School of Medicine

Educational Grants Provided by
Amgen
Bristol-Myers Squibb
BTG International Inc.
Grifols
Novo Nordisk
Pfizer Inc.

ASPHO Corporate Members
Amgen
ApoPharma USA
Cook Children's Health Care System
Grifols
Jazz Pharmaceuticals
Novo Nordisk
Purdue Pharma L.P.
Sanofi Oncology
Exhibitors

Alexion Pharmaceuticals
Alex's Lemonade Stand Foundation
American Academy of Pediatrics
American Society of Clinical Oncology
ApoPharma
Baxter
Bayer HealthCare
BTG International Inc.
Calmoseptine, Inc.
Children's Healthcare of Atlanta
Cincinnati Children's Hospital
Cook Children's Health Care System
CSL Behring
CuraScript
CureSearch for Children's Cancer
Dana-Farber Children's Hospital
Gensavis Pharmaceuticals, LLC
Gideons International, The
Grifols
HPC Specialty Pharmacy

Jazz Pharmaceuticals
Kedrion Biopharma
Novartis Oncology
Novo Nordisk
Octapharma
Platelet Disorder Support Association
Ranfac Corp
Resonance USA, Inc.
Roche/Genentech-BRIM P Study
Sanofi Oncology
Seattle Cancer Care Alliance/Seattle
Children's Hospital
Shire
Sigma-Tau Pharmaceuticals Inc.
St. Baldrick's Foundation
St. Jude Children's Research Hospital
Sylvester Comprehensive Cancer Center
The Leukemia & Lymphoma Society
The Pablove Foundation
Vidara Therapeutics Inc.
Walgreens Infusion Services
Have You Purchased Your 2013 Annual Meeting Recordings DVD?
A DVD of the well-attended 2013 ASPHO Annual Meeting is now available for purchase for a special price. This DVD includes 47 hours of synchronized audio recordings and slides from 11 symposia, 10 workshops, and five platform sessions.
Whether or not you attended the event, these recordings are perfect for those who want to increase their knowledge and understanding of current research data and its application to clinical practice, including fellows in training.
Purchase the DVD by July 31 to receive the special price of $99! Those in developing countries will receive the special price of $45, by contacting ASPHO Member Services at 847.375.4716.
Quantities are limited, so make sure to purchase it soon.
2014 Call for Workshops
The 27th Annual Meeting program will include eight workshops, to be selected by the Program Committee from proposals submitted by its members. The Program Committee invites the submission of workshops to be presented at the annual meeting, May 14–17, 2014, in Chicago.
The submittal system will open Friday, June 14, and will close at 11:59 pm PST on August 12, 2013. Click here to submit your proposal.
You will be notified in September 2013 whether your workshop has been accepted.
---
Welcome, New ASPHO Members
Mr. Mihir Dipakkumar Bhatt of Hamilton, Ontario, Canada
Dr. Aliz Borja of Quito, Ecuador
Dr. Blanca Lopez-Ibor of Madrid, Spain
Mr. Housam Yousef Almadani of Jeddah, Saudi Arabia
Dr. Koh Yaling Vicky of Singapore
Dr. Eduardo Rodenas of Carlisle, MA
Ms. Joan M. Ronan of Boston, MA
Ms. Eduvigis Cruz-Arrieta of New York, NY
Dr. Jennifer J. Wilkes of Philadelphia, PA
Dr. Alexander Ngwube of Charleston, SC
Dr. Enrique Escalon of Coral Gables, FL
Dr. Seth Karol of Germantown, TN
Dr. Elizabeth L. Kudron of Columbus, OH
Dr. Lynn Lee of Cincinnati, OH
Dr. Catherine A. Long of Indianapolis, IN
Dr. Amy Barone of St. Louis, MO
Dr. Dana Marie Leblanc of New Orleans, LA
Dr. Demetrios Petropoulos of Houston, TX
Dr. Daniel J. Greenfield of Santa Barbara, CA
Ms. Kathleen Magid of Palo Alto, CA
Dr. Huyen Thanh Bui of Ho Chi Minh City, Vietnam