George R. Buchanan Lectureship Award
The purpose of the annual George R. Buchanan Lectureship Award is to honor Dr. Buchanan and assure that future generations of pediatric hematology/oncology specialists are aware of his significant contributions to ASPHO and the field. Dr. Buchanan has made scientific contributions in many areas of pediatric hematology and oncology; and among his many attributes, he has been recognized as an outstanding teacher and mentor. He served as Past President of the Society and founded and developed the ASPHO Pediatric Hematology/Oncology Review Course, a premier education offering for the field. The award will annually recognize a national/international expert in pediatric hematology/oncology who meets the criteria below
2019 Recipient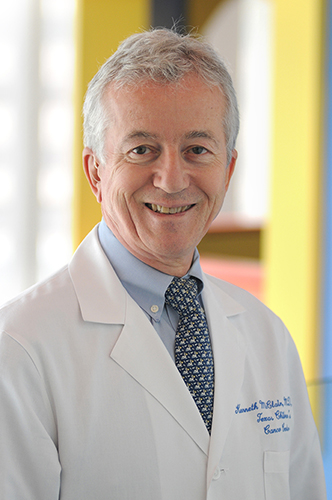 Kenneth McClain, MD PhD
Texas Children's Hospital/Baylor University
Houston, TX

Kenneth McClain, MD PhD, a pediatric hematologist at Texas Children's Hospital and professor of pediatrics at Baylor College of Medicine, is ASPHO's 2019 George R. Buchanan Lectureship recipient.
After completing his undergraduate studies at Augustana College in Sioux Falls, SD, Dr. McClain achieved both his PhD in 1972 and his MD in 1973, from the University Of Chicago School Of Medicine. He completed postdoctoral training as a pediatric intern and resident at The Johns Hopkins hospital in Baltimore, as a research associate at the NICHD Laboratory of Molecular Genetics, and as a pediatric hematology/oncology fellow at the University of Minnesota.
Dr. McClain is an internationally recognized expert and leader in pediatric hematology/oncology, with specific expertise in histiocytic disorders. As a researcher, he has focused his efforts on Langerhans Cell Histocytosis (LCH) and related disorders, and has created a Texas Children's Histiocytosis program which includes 25 researchers and scientists funded by more than $12 million in NIH and foundation grants. This group is leading several clinical trials, including an investigator-initiated multicenter trial to redefine the standard of care for front-line therapy for LCH, which will be opening at 12 other sites.
Clinically, Dr. McClain leads a team of four MDs and a nurse practitioner who care for more than 150 new patients every year in the Texas Children's Histiocytosis program. He has authored 49 chapters, serves on the NCI PDQ Editorial Board, and was senior author of both How I Treat LCH and How I Treat HLH in Blood. He treats patients from around the world, and serves as a sounding board for his peers on challenging patients dealing with LCH.
An accomplished mentor, Dr. McClain is known to assist mentees, fellows, and other physicians in treating the most difficult of cases in his areas of expertise. Additionally, he shares his expertise through review articles, book chapters, responses to e-consults, and as a regular speaker at the ASPHO Review Course.
As a leader in the field, Dr. McClain has served both as a founding member, and later president of the Histiocyte Society. He also organizes a Histio Family Day in Houston every year and a lecture series annually at the HistioCure Hike for a Cure event in order to provide family/patient level information.
ASPHO is pleased to congratulate Dr. Ken McClain for receiving the 2019 George R. Buchanan Lectureship.
Eligibility:
The George R. Buchanan Lectureship Award is to be received by an ASPHO member in good standing who is a nationally and/or internationally recognized expert in pediatric hematology/oncology. The recipient should have significant research, education and clinical expertise, and be recognized as an accomplished educator, committed mentor and effective speaker.
The individual chosen for this award must agree to present a 35-45 minute clinical review, including research and clinical management of patients on a topic relevant to the field during the ASPHO Conference.
Nomination and Selection Procedure:
Nominations for the George R. Buchanan Lectureship Award are solicited from ASPHO members and must include a letter of nomination and a current CV. Nominations will be compiled by the Awards Committee, which will recommend a winner to the Board of Trustees.
Recognition and Expense Reimbursement:
The Buchanan recipient will receive complimentary meeting registration, round-trip economy airfare, two nights in the meeting hotel, a $500 honorarium and a plaque to be presented before the lecture.
Nominations are not currently being accepted for this award.
Past Recipients
2018 Stephen P. Hunger, MD
2017 Jeffrey M. Lipton, MD PhD
2016 Denise M. Adams, MD