August 2014
In This Issue
President's Message
ASPHO Supporting Hematology/Oncology Career Development
Joanne Hilden, MD
Greetings, colleagues! I hope you are having a glorious summer. For me, spring and summer mean lots of time on a bike in the mountains (proving that sometimes I do my best thinking when hypoxic). On a recent ride, I decided to use this newsletter to review what we are doing together in ASPHO to enhance hematology/oncology career development in this changing world of ours.
You heard from Kim Ritchey on this topic a year ago. The ASPHO committees involved in the career domains include (1) the Practice Committee, chaired by Jeff Hord, MD; (2) the Professional Development Committee (PDC), chaired by Linda Stork, MD, and vice chair Patrick Zweidler McKay, MD; and (3) the Training Committee, chaired until this year by Patrick Leavey, MD, and now chaired by Mark Atlas, MD. I'll focus largely on the work of the PDC in this message.
First, let me thank the members for their service and innovation.
Linda Stork, MD, Chair
Patrick Zweidler-McKay, MD PhD, Vice-Chair, and Mid/Late Career Subcommittee co-chair
Sarah Vaiselbuh, MD, Early Career Subcommittee co-chair
Rima Jubran, MD MPH, Early Career Subcommittee co-chair
Kathleen Sakamoto, MD PhD, Mid/Late Career Subcommittee co-chair
Ted Johnson, MD PhD, Diversity Subcommittee co-chair
Betty Pace, MD, Diversity Subcommittee co-chair
Sherif Badawy, MD
Vandy Black, MD
Jackie Casillas, MD
Ed Chan, MD
Eduvigis Cruz-Arrieta
Sunny Dovat, MD PhD
Janet Franklin, MD MPH
Ernest Frugé, PhD
Adrienne Hammill, MD PhD
James Harper, MD
Mary-Jane Hogan, MD MPH
Paul Kent, MD
Emily Meier, MD
Kasi Myers, MD
Lani Nakamura, MD
Suvankar Majumdar, MD
Kerice Pinkney
Mona Shah, MD MS
Cristina Tarango, MD
Maria Velez, MD
ASPHO Staff
Cassie Corvo
Jackie Holcomb
ASPHO Board Liaison
In 2011, ASPHO envisioned its role in supporting members' professional development this way: "ASPHO is at the forefront in meeting its members' professional development needs at all stages of their careers by providing high-quality continuing education programs, practice information, and other innovative services, delivered in the most efficient and affordable ways possible." The PDC has accomplished a lot and evolved in its goals and strategies. I'll take each element of the PDC's current charge (in bold) and remind you of what is going on. Look for ways to use these in your work, and send us suggestions!
Identify needs in early career development (including fellowship) and address in existing ASPHO annual programming (Young Investigator [now called Early Career] Workshop, Symposium, Career Luncheon, and Coffee Corner) and provide relevant content on the ASPHO website.
ASPHO's track record on programming for the Early Career group is exceptional. They have dedicated sessions in the annual meeting for workshops and symposia, and these have always been well designed and well received. Many topics have been presented, such as grant writing, developing leadership skills, negotiating contracts (which evolved into a webinar; go see it if you need it!), choosing mentors, and scholarship opportunities in the education arena. Many of us in our mid and late careers learn from these sessions as well! The Early Career luncheon at ASPHO is always overflowing with attendees seeking mentoring and networking opportunities; we will need a larger room next year! ASPHO recently instituted the Early Career Council, which has placed two early career members on each ASPHO committee.
The Early Career Council recently launched the Early Career Forum in ASPHO's member community to provide fellows and pediatric hematologists/oncologists early in their careers with a way to connect with each other. The forum is open to fellows and attendings in the first 5 years of their careers. I encourage you to join and interact with others in your field.
Create, monitor, and evaluate the Early Career Mentoring Program.
I have long had an interest in career and leadership development, and therefore have taken lots of excellent leadership and mentorship courses over the years. There is one particular common denominator to all of them: the need for excellent, diverse, and multiple mentors. This means not just mentors from your own institution, but mentors from the outside who tend to be objective and open one's mind to many options. In that spirit, the ASPHO Early Career Mentoring Program was born. It is in its second year and evolving. Any early career ASPHO member can sign up as a mentee and select a mentor from a diverse list of mid- and late-career volunteers. Mid- and late-career members: please sign up! Your wisdom could help a junior colleague, whether it's delivered by phone, e-mail, or over a cup of coffee.
Identify needs in mid/late career and address issues in ASPHO programs, publications, and website content.
The needs of mid- to late-career hematology/oncology physicians are a very important focus of recent PDC work. A session on the needs of this group was held at the 2009 annual meeting, and the result of their work was published (Frugé E, Margolin J, Horton T, Venkateswaran L, Lee, D, Yee D, Mahoney D. [2010]. Defining and managing career challenges for mid-career and senior stage pediatric hematologist/oncologists. Pediatric Blood Cancer. 55:1180–1184). This publication identifies activities ASPHO could undertake to enhance the careers of this group. (Please go look at it; is there anything there you would prioritize highly? Let us know!) The need to "help senior hematology/oncology physicians transition to new roles" was developed into a workshop at the 2014 ASPHO annual meeting. A summary of that impactful session is presented in this newsletter.
Identify the needs and opportunities for promoting diversity, inclusion, and cultural competency within our field and the broad ASPHO community, and address these priorities through ASPHO programs, publications (like Diversity Corner), website content, and liaison with the ASPHO Diversity Special Interest Group.
The PDC has had a Diversity Subcommittee since 2009 with the goal of supporting the career advancement of women and minority members and ensuring diversity in all of ASPHO's committees and leadership structure. Under the initial leadership of Kathy Sakamoto, and now Ted Johnson and Betty Pace, the group writes the Diversity Corner column for ASPHO eNews. The subcommittee has garnered funding to bring in excellent speakers and facilitators, enriching the discussions and strategies of the group. The results of this group's initial needs assessment were published in 2011 (Frugé E, Lakoski JM, Luban N, Lipton JM, Poplack DG, Hagey A, Felgenhauer J, Hilden J, Margolin J, Vaiselbuh SR, Sakamoto KM. [2011]. Increasing diversity in pediatric hematology/oncology. (Pediatric Blood Cancer. 57(1):147–152).
In 2012, ASPHO members created a Diversity Special Interest Group (SIG), which held workshops at the past two ASPHO meetings. A key addition to this past year's National Institutes of Health-funded workshop was the expansion of trainee travel awards to include sponsorship of under-represented junior trainees (medical students and residents). These sponsored trainees were paired with faculty guides to optimize their conference experience and provide a point of contact and mentorship within the field of pediatric hematology/oncology as they begin to make career development plans. ASPHO members are encouraged to join and bring new ideas to the Diversity SIG.
Last, there has been work done by the Practice Committee, under the leadership of Jeffrey Hord, MD, that is very much related to hematology/oncology career development. In this issue, Dr. Hord and his committee report the results of our 2014 workforce survey. Note the response rate of 32.2%. As you will see from the results and conclusions, these data are vital to us as our field changes. In partnership with the Training Committee, we will continue to collect (and hopefully hear from the majority of institutions) to inform our work.
---
Membership News
Back-to-School Shopping That Will Enrich the Future
Thanks to the generosity of our donors, the Enriching the Future campaign fund has reached $65,000!
Now there is a new way that you can support the Society.
Make the most of your back-to-school online purchases by signing up on AmazonSmile and selecting ASPHO as your organization of choice!
AmazonSmile is a website operated by Amazon that lets customers enjoy the same wide selection of products, low prices, and convenient shopping features as on Amazon.com. When you shop on AmazonSmile, the AmazonSmile Foundation will donate 0.5% of the price of eligible purchases to the charitable organization you've selected.
Now every time you shop on smile.amazon.com, 0.5% of your purchase will go toward ASPHO. Learn how you can sign up for AmazonSmile.
A little goes a long way. Choose ASPHO as your organization of choice and help shape the future of your profession!
Recognizing Your Peers
Each year, ASPHO recognizes excellence in the pediatric hematology/oncology field by presenting two awards, the Frank A. Oski Lectureship Award and the Distinguished Career Award.
The Frank A. Oski Lectureship Award honors Frank A. Oski by recognizing members of the younger generation of pediatric hematology/oncology specialists whose cutting-edge research has made an impact on clinical or laboratory investigation. The awardee will present a 35–45-minute state-of-the-art lecture describing their research at the 2015 annual meeting.
The Distinguished Career Award is awarded to a senior physician or other professional who, during his or her career, has had a major impact on the care and research of children with cancer or blood disorders or who has made an impact on the subspecialty through some combination of research, education, patient care, and advocacy.
This is an opportunity for you to recognize your peers who have made an impact in your profession. Please consider nominating someone you know for one of ASPHO's prestigious awards.
Award recipients will be recognized at the 2015 annual meeting in Phoenix. The deadline for nominations is Friday, October 3. Nominate someone now!
2014 ASPHO Workforce Survey
Jeffrey D. Hord, MD, ASPHO Workforce Task Force Chair
In the spring of 2014, 65 division directors from 32 states and two centers in Canada completed the ASPHO Workforce Survey with a response rate of 32.2%. The responding centers are representatives of pediatric hematology oncology (PHO) centers across the United States, and includes 32 of the country's 70 Accreditation Council for Graduate Medical Education (ACGME)-accredited fellowship training programs.
According to the survey, a full-time 100% clinical PHO physician attends the inpatient service 12 weeks per year and sees patients in the outpatient clinic for 6 half-day sessions per week. Among responding centers, the median work relative value units (wRVU) goal in 2013 for a 100% clinical PHO physician was 3,100. The average PHO physician spends 60% of his or her time providing clinical care.
On average, programs have one clinical full-time equivalent (FTE) PHO physician for every 18 new oncology patients diagnosed annually. The average PHO physician spends 60% of his or her time providing clinical care, which means the average program has one PHO physician per 11 new oncology patients diagnosed each year. The number of hematology patients followed in a practice does not seem to have much influence on this ratio.
Read the full executive summary and workforce survey results.
Summary of the Late Career Transition Workshop
Kathleen M. Sakamoto, MD PhD; Ernest Frugé, PhD; Patrick Zweidler-McKay, MD PhD
The ASPHO Late Career Transition Workshop was held May 16, 2014, with more than 50 participants. The program included two invited speakers, Phillip Pizzo, MD, and Ernest Frugé, PhD, and a panel of distinguished leaders in the field: George Buchanan, MD, Beverly Lange, MD, Naomi Luban, MD, and Bill Woods, MD.
The workshop was a follow-up meeting to the previous ASPHO workshop held in 2008 during which a needs assessment was performed for mid- to late-career pediatric hematology/oncology faculty. The assessment results were later published in 2010 by Frugé, Margolin, Horton, Venkateswaran, Lee, Yee, and Mahoney in Pediatric Blood & Cancer.1
The purpose of the 2014 workshop was to review the data from the original 2008 assessment, hear keynote speaker Dr. Pizzo present "New Beginnings: Continuing the Life Journey," discuss topics raised by the speakers, and answer participants' questions.
Read summaries from this year's speakers.
Approximately 50% (n = 23) of workshop attendees completed a follow-up survey. All responders agreed that the Professional Development Committee should produce symposia or workshops on mid/late-career development issues in the future. Most of the attendees desired a workshop at the ASPHO Annual Meeting every year or two. Suggested topics for future offerings mirrored results of the earlier needs assessment. Two clusters of topics were most frequently mentioned: (1) succession and transition issues, including moving from established roles (e.g., laboratory or leadership) to new roles and finding meaningful ways to contribute after semi or full retirement, and (2) balancing work-life, workload/compensation, and burnout. Respondents also indicated that keeping up to date (e.g., advances in technology) and learning about financial planning for retirement were important topics for consideration. In addition, respondents thought that future offerings should include mid-career members and address the needs and interests of those from small as well as large programs.
In conclusion, this is only the beginning of the dialogue in discovering paths to be taken during the late-career stage. The next steps are to focus on specific issues and how to address them at each of our own institutions.
Reference
Frugé, E., Margolin, J., Horton, T., Venkateswaran, L., Lee, D., Yee, D. L., & Mahoney, D. (2010). Defining and managing career challenges for mid-career and senior stage pediatric hematologist/oncologists. Pediatric Blood and Cancer, 55(6), 1180–1185.
Alliance for Childhood Cancer Action Days
The Alliance for Childhood Cancer hosted a 2-day event (June 23–24) that included issues and advocacy training and pre-arranged Capitol Hill visits with congressional representatives and their staff. The Alliance for Childhood Cancer's goal is to provide the childhood cancer community, including parents, children, and healthcare professionals, the opportunity to visit their representatives on Capitol Hill and advocate for the important childhood cancer issues currently before Congress.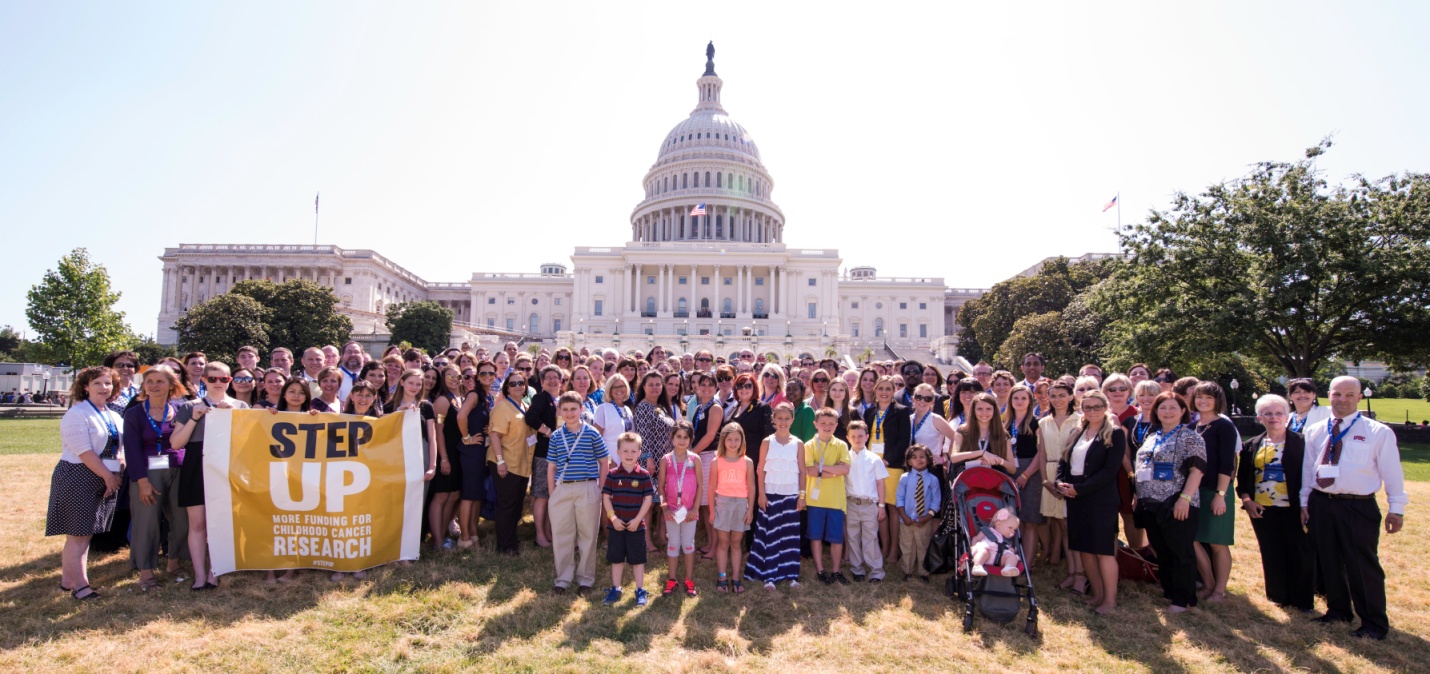 ASPHO Vice President Amy Billett, MD, is the society's representative to the alliance and was recently elected as its co-chair. Through her involvement, the board agreed to provide sponsorship funding for the event and also to sponsor two early career members to participate in the 2-day advocacy event.
Robert (Shep) Nickel, MD, Children's of Atlanta, is a member of the ASPHO Advocacy Committee. He was joined by Wendy Darlington, MD, a fellow at the University of Chicago who has recently joined the advocacy workgroup. All three, including Dr. Billett, were part of the Capitol Hill visits. Read about their experiences at this year's Childhood Cancer Action Days here.
---
Education and Professional Development
Don't Miss Out on ASPHO's Professional Development Webinar!
ASPHO's 2014–2015 webinar series will debut on Wednesday, August 27! Register now for "Work-Life Integration for Physicians: Myths and Possibilities."
Join moderator Rima Jubran, MD MPH MACM, and presenter Jeffrey Harris, MFT CEAP CPC, on Wednesday, August 27, at 3 pm (CDT) as you learn how to create a personalized definition of work-life balance and identify and neutralize the personal and institutional barriers to effective time management.
ASPHO webinars are free, non-CME presentations led by experts on clinical and career topics. Each is a 30-minute presentation followed by 15 minutes of questions and answers.
Additional webinar topics include palliative care, severe aplastic anemia, limited stage Hodgkin's lymphoma, and vascular anomalies.
Review Course Registration Opens August 25
"One of the best courses I have ever attended!"
— 2013 Review Course attendee
ASPHO's 2015 Pediatric Hematology/Oncology Review Course will be held February 5–8 in Dallas.
The course is designed for
physicians planning to take the American Board of Pediatrics (ABP) examination for initial certification in pediatric hematology/oncology
those preparing for Part 3 of ABP's Program for Maintenance of Certification in Pediatric Subspecialties
fellows in training.
The 2015 course will be taught by subject matter experts, many of whom are national leaders in the pediatric hematology/oncology field.
Registration for the 2015 review course will open Monday, August 25. Visit the ASPHO website for more information.
Milestone Workshop at Annual Meeting Demystifies Next Accreditation System
Mark Atlas, MD
Attendees at the Training Program Directors' Milestone, Competency, and EPA Workshop uniformly agreed that they gained much valuable information and better understood the basic theory and Accreditation Council for Graduate Medical Education requirements under the Next Accreditation System (NAS). In anticipation of mandatory reporting of fellow achievement in 21 competency-based milestones by December 2014, the Fellowship Program Directors' Committee sponsored a workshop to train program directors (PDs), which enrolled more than 90 PDs and division chiefs. Combining didactic sessions, interactive video, and small-group mentoring, participants learned to use the program designed by the committee's Entrustable Professional Activity (EPA) taskforce during the previous 18 months. The taskforce developed tools including milestones with simplified verbiage devoid of jargon, evaluation forms for different rotations, planning grids for scheduling evaluations, and PowerPoint slides for faculty development that were presented to participants and uploaded onto the ASPHO website. Faculty mentored attendees in small groups to create an individualized evaluation program by workshop's end. Active participation in discussion by the enthusiastic audience created an atmosphere of interactive learning. Postworkshop evaluations demonstrated that all respondents felt they received a great deal of valuable information and virtually all felt prepared to implement the NAS.
The EPA taskforce now looks forward to researching the implementation of competency-based milestone evaluations in conjunction with the Association of Pediatric Program Directors. It will also design a methodology to evaluate fellows per the EPAs for pediatric hematology/oncology over the next 2 years in collaboration with the American Board of Pediatrics.
Annual Meeting DVD: Limited Quantities
Were you unable to attend this year's annual meeting but are interested in hearing this year's speakers? Purchase the annual meeting DVD before it sells out! The DVD includes 45 hours of synchronized audio recordings and slides, five platform sessions, 11 symposia, and 12 workshops that will increase your knowledge and understanding of current research data and its application to clinical practice. Purchase the DVD for $99!
Working Towards Maintenance of Certification? Need Part 4 Credits?
ASPHO is currently partnering with the American Board of Pediatrics (ABP) to bring you a hematology/oncology performance improvement module (PIM) covering "Timely Antibiotics and the Immunocompromised Child." ASPHO and ABP plan to launch this new PIM in the fall, but if you want to get started now, take a look at these currently open PIMs. You will have to log-in to the ABP website to view each PIM.
To start earning Part 4 credit today. Login to your physician portfolio and follow the prompts. Additional information can be found at www.abp.org.
ASPHO Collaborates with GALOP to Provide Learning Opportunities in Latin America
In collaboration with the Latin American Pediatric Oncology Group (GALOP), ASPHO is pleased to announce the debut of ASPHO Essentials in Latin America.
ASPHO Essentials is a 3-day conference that includes the best of the educational programming presented at ASPHO's annual meetings in 2013 and 2014.
ASPHO, along with GALOP, hopes that providing this content to Latin American pediatric hematologists/oncologists will lead to additional educational opportunities for the Latin American population and further collaborations with ASPHO. The conference will be held in Montevideo, Uruguay, November 4–6, 2014. Learn more.
---
Announcements
CoPS Activity Update
The Council of Pediatric Subspecialties (CoPS), which advances child health through communication and collaboration within its network of pediatric subspecialties and liaison organizations, has recently updated their 2013-2014 activity calendar. CoPS also addressed areas of issues and activities that will be addressed in 2014-2015. The full listing of activities can be found on their website.