Diversity, Equity, & Inclusion at ASPHO
ASPHO is committed to a welcoming and inclusive experience for its members and supports their passion for equitable healthcare access for all pediatric hematology/oncology patients. Diversity, equity, and inclusion (DEI) are infused into the Society through its leadership development, Diversity Statement, the volunteer Diversity Advisory Group, Points of Diversity representation guidelines, and the member-driven Diversity, Equity and Inclusion Special Interest Group. ASPHO also published a statement in 2020 condemning racism and supporting healthcare equity. Comments and suggestions related to DEI issues within the Society and field are welcome and can be sent via the link at the bottom of the page.
April is Diversity Month, and several ASPHO members shared their thoughts on the importance of diversity, equity, and inclusion in pediatric hematology/oncology in the April 2023 eNews. Continue the conversation and add your thoughts on Twitter and include ASPHO's handle, @ASPHO_hq, or in the Society's member Diversity, Equity, and Inclusion SIG community.


Diversity Advisory Group
The Society aspires to represent all members and support their capacity to contribute fully to the pediatric hematology/oncology field through engagement, resources, and programs. The Board appointed the Diversity Advisory Group in 2018 to:
counsel the Board of Trustees on the needs and opportunities for promoting diversity, inclusion, and cultural competency within the Society as guided by ASPHO's Diversity Statement
create an equitable and welcoming environment for members and program attendees
maintain transparency with membership by sharing the Society's DEI values, demographics, programs, and resources in communication channels
The Diversity Advisory Group is implementing actions in response to member survey feedback about their diversity experience at ASPHO, including assessing the Society's volunteer diversity, communicating DEI aspects of Society activities, and providing DEI resources on aspho.org.
ASPHO Membership
Member Demographics
Member demographics can be viewed in the Society's 2022 Annual Report. Update your member profile to bolster ASPHO's understanding of member diversity and demographics.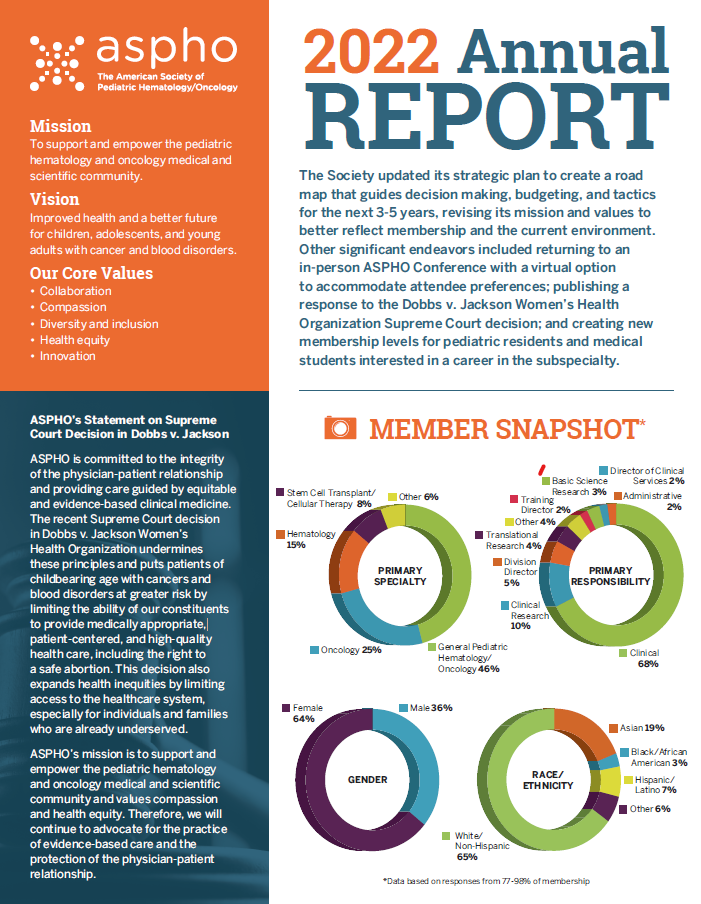 Resources
ASPHO Resources
ASPHO Webinars: Overcoming Obstacles in Advancement for Women in Medicine, Diversity in the Scientific Workforce.
ASPHO eNews

: features regular Diversity Corner articles on issues selected by ASPHO's

Diversity Advisory Group

with contributions from members and the

DEI Special Interest Group. Recent articles include Addressing Inclusion in Pediatric Hematology/Oncology Through Telehealth During the Pandemic and ASPHO Diversity, Equity, and Inclusion: Transparency, a Step Toward Progress and Open Dialogue on Diversity at #ASPHO2021. Diversity Corner articles from past years can be accessed in Member Insights: eNews 2020 Highlights, Member Insights: eNews 2019 Highlights, and Member Insights: eNews 2018 Highlights.
ASPHO Conference: ASPHO's annual education event remains committed to integrating DEI into the education and programming provided.

The 2023 ASPHO Conference Presidential Symposium addressed Access to Pediatric Hematology/Oncology Healthcare Leading to Improved Outcomes in Under Resourced Countries. Concurrent Education programs included Sex, Drugs, and Rock'n'Roll: The Tough Topics in AYA Oncology: Financial and School Burdens Facing AYA Oncology Patients; Acquired and Inherited Epigenomic Contributions to Cancer Risk
The 2022 ASPHO Conference included several programs on DEI topics: Pre-Conference Session - Clinical Trials in AYA Oncology: Diversity, Equity, Inclusion, and a Collaborative Approach; Leading Anti-Racist Teams, A Hands-On Communication Workshop; Moving the Needle - Equity in Academia; Can You Hear Me Now? Cultivating a Culture of Respect, Value, and Appreciation within Pediatric Hematology/Oncology.
The 2021 ASPHO Conference featured a Presidential Symposium and roundtable discussion on "Healthcare Disparities in Pediatric Hematology/Oncology" as well as an open forum for members during its Diversity Dialogue.
Terminology
Diversity
Diversity refers to the composition of a group of people from any number of demographic backgrounds, identities (innate and selected), and the collective strength of their experiences, beliefs, values, skills and perspectives.
Equity
An equitable environment challenges intentional and unintentional forms of bias, harassment and discrimination and promotes alternative actions. As an environment can be welcoming and inequitable, attention will be paid to recognizing and eliminating barriers to full participation at individual and systemic levels.
Inclusion
Inclusion is the act of establishing philosophies, policies, practices, and procedures to ensure equal access to opportunities and resources to support individuals in contributing to the organization's success.
Other DEI Resources
Update your member profile to help ASPHO better know – and represent – its membership.

This email address is being protected from spambots. You need JavaScript enabled to view it. to the Diversity Advisory Group about diversity, equity, and inclusion at ASPHO and in the subspecialty!