Member Insights: eNews 2020 Highlights
This special eNews issue showcases member-authored Diversity Corner and Special Feature articles that appeared in 2020. Take a look back to appreciate the informative articles and personal reflections written by your colleagues.
Diversity Corner
June 2020
Diversity SIG — ASPHO 2020 and Future Endeavors
Pinki Prasad, MD MPH, Daniel Ortiz, MD, and Kerice Pinkney, MD
Diversity SIG Mission
The Diversity SIG (DSIG) of ASPHO aims to support the advancement of all ASPHO members and the field of pediatric hematology/oncology through increasing diversity and inclusiveness in a broad sense in the membership and leadership of ASPHO, as well as the home institutions of members. ASPHO's DSIG has made it a top priority for our group's activity to begin with early outreach and engage medical students before the annual meeting. Our goal is to connect medical students with faculty in the field of pediatric hematology/oncology at the ASPHO Conference.
The physician workforce continues to struggle with adequate representation of racial and ethnic minorities, with hematology and oncology lagging behind medicine in general. According to the most recent census, 13% of the US population is black or African American and 18% is Hispanic.1 In contrast, only 2.3% of practicing oncologists self-identified as black or African American and 5.8% of practicing oncologists self-identified as Hispanic.2,3,4
Individuals from populations underrepresented in medicine are even more underrepresented in oncology than in fellowship or residency programs in general. Thus, early outreach is essential for mentoring medical students and residents who are interested in pediatric hematology/oncology as a career choice.
Medical School Partnership
To further our commitment to mentoring in 2020, the DSIG collaborated with University of North Texas Health Sciences Center (UN THSC) in Fort Worth, TX. Our SIG started planning a meet and greet with the UN THSC medical students and faculty in late 2019 and had over 30 students signed up for the meet and greet. Twenty-three students were interested in being paired with an ASPHO mentor during the 2020 conference. UN THSC showed tremendous generosity to the DSIG, and we are disappointed that this year's meeting was cancelled. We are hopeful that we can continue to work with the students and have some of them attend the 2021 ASPHO Conference.
Collaboration with other SIGs
Other themes of the DSIG include identifying and overcoming barriers to academic success for women and historically underrepresented minorities. The DSIG was able to partner with the Hemoglobinopathy SIG to develop an ASPHO Webinar Series webinar hosted on October 30, 2019, Harnessing Diversity to Improve Outcomes for Children with Blood Disorders and Cancer. The webinar was moderated by Dr. Monica Hulbert, and speakers included Dr. Kira Bona and Dr. Emily Meier.
In the United States, children of minority racial/ethnic backgrounds with acute lymphoblastic leukemia have worse outcomes than nonminority children. Children and adults with sickle cell disease face barriers to medication adherence and difficulty obtaining acute and chronic care. Individuals with sickle trait may not be provided appropriate genetic counseling information. The webinar discussed how increasing understanding of diversity in the medical setting can help identify and mitigate barriers to care, in turn improving outcomes for children of minority backgrounds with hemoglobinopathies and cancer. Cultural/racial barriers to optimal clinical care, genetic counseling, and medication adherence for children with blood disorders and cancer were discussed. Other topics included identifying the impact of increasing diversity of local care teams on patient outcomes and discussing strategies for increasing diversity within the care team.
This year we were excited to plan to jointly host a speaker with the Hemoglobinopathy SIG and the Physician Scientist SIG, Dr. Lydia Pecker, to discuss her academic career path in sickle cell disease and research. In addition, the DSIG was invited to join a grant writing and research session with the Physician Scientist SIG as a second part to Dr. Pecker's presentation.
Although the DSIG is disappointed that the ASPHO Conference was cancelled in 2020, we are looking forward to a safe and successful meeting in 2021. We welcome new members to join our Diversity Special Interest Group. We communicate throughout the year using ASPHO's Member Community.
References:
US Census. QuickFacts. United States. https://www.census.gov/quickfacts/table/PST045215/00. Accessed June 1, 2020.
Kirkwood MK, Hanley A, Bruinooge SS, et al. The state of oncology practice in America, 2018: results of the ASCO Practice Census Survey. J Oncol Pract. 2018 Jul;14(7):e412-e420. doi: 10.1200/JOP.18.00149.
American Academy of Pediatrics. Demographics of women physicians and pediatricians. https://www.aap.org/en-us/about-the-aap/departments-and-divisions/department-of-education/Documents/women_med_demographics.pdf. Accessed June 24, 2016.
Association of American Medical Colleges. Table 3. Distribution of U.S. medical school faculty by rank and race/ethnicity. https://www.aamc.org/download/453416/data/15table3.pdf. Accessed June 24, 2016.
October 2020
Being Informed and Taking Action: ASPHO's Member Experience and Diversity Needs Assessment
Eleny Romanos-Sirakis, MD, Nidhi Shah, DO, and Betty Pace, MD
In these times of uncertainty and change, it is important to know ASPHO's principles of inclusion and diversity.
Our medical profession and the nation are being tested in the face of racial tension and the COVID-19 pandemic, which has sharply drawn attention to inequities impacting patient care as well as diversity issues within the profession. Coinciding with these societal upheavals, the Board of Trustees recently reviewed the Member Experience and Diversity Needs Assessment results about member engagement; benefits; and, importantly, perceptions of diversity at ASPHO. Key takeaways from the survey conducted last fall by the Membership Committee and Diversity Advisory Group follow. Of special note are recommendations by the Diversity Advisory Group, fulfilling its charge "to advise the Board of Trustees on the needs and opportunities for promoting diversity, inclusion, and cultural competency within the Society as guided by ASPHO's Diversity Statement."
We are pleased to relay highlights from the survey. We also encourage you to read ASPHO's Anti-Racism and Healthcare Equity Statement and Dr. Jorge Di Paola's June President's Message to gain a better sense of the Society's values regarding representing and supporting members. In addition, ASPHO is proud to have both a Board-appointed Diversity Advisory Group and a Diversity Special Interest Group that is open to all members.
The majority of respondents were either "satisfied" or "very satisfied" with their membership. Key responses regarding the member experience follow.
The majority of "very satisfied" members were mid-late career specialists who had volunteered in the past 5 years and have a primary interest in expanding their professional network. Twenty percent of respondents felt "very engaged," with close to 40% responding with "slightly engaged." Mid-late career specialists felt more engaged and satisfied than early career specialists.
Reasons for joining vary by race/ethnicity. The top three reasons for non-white respondents were educational programs and resources, to be part of a community of peers, and to advance their careers. White respondents also noted education for the first reason, with staying current on developments and treatments as the second draw, and the third reason was a tie between expanding professional network and being part of a community of peers.
Non-white members volunteered and attended the ASPHO Conference at slightly higher rates than white members.
Highlights of diversity-related responses follow.
Approximately one-half of ASPHO survey respondents (44%–47%) did not know demographic data about ASPHO's leadership, committees, or programming participants like mentors, speakers, and presenters and suggested there is a disconnect between the survey results and the diversity statement goals of "attracting, developing, and retaining volunteers who reflect the diversity of its membership to play key roles in leading the Society".
Compared with the total survey sample, non-white respondents perceived ASPHO to be less representative of a diverse organization; less than one-half of the non-white respondents believed membership reflected the diversity of the profession.
About 29% of non-white respondents encouraged ASPHO to "greatly increase" the number of programs to address diversity development, including having more diverse educational speakers, providing additional career development resources, and creating a welcoming environment.
More than half of survey respondents "do not know" whether ASPHO is supportive of addressing covert or overt instances of discrimination or bias at events or in print or online resources.
In light of these responses, the Board approved recommendations to
collect and summarize demographic data on ASPHO's volunteer workforce to inform members and support Leadership Development Committee efforts
highlight current diversity efforts on a new diversity page on the ASPHO website and through other communication channels and program information. Examples include conveying to members how ASPHO's Points of Diversity resource is used in determining volunteer appointments; relaying how diversity is incorporated into programming; and continuing to collect and benchmark both workplace and personal demographics.
increase the number of diversity-related resources on the ASPHO website
review ASPHO's diversity statement, written in 2010, and update it, if necessary.
ASPHO aspires to provide an inclusive and representative experience for every member and to promote equity in the workplace and in patient care. We encourage you to engage with the Diversity Special Interest Group and to send your comments to This email address is being protected from spambots. You need JavaScript enabled to view it. to help us build a more welcoming and responsive Society.
Eleny Romanos-Sirakis, MD, chair, Membership Committee
Nidhi Shah, DO, chair, Diversity Advisory Group
Betty Pace, MD, Board liaison, Membership Committee, and former chair, Diversity Advisory Group
December 2020
A Lifeline for Linguistic Isolation
Arun Gurunathan, MD
The number of individuals with limited English proficiency (LEP) has substantially increased in the past few decades, and over 4 million households have been termed "linguistically isolated." Describing complex hematologic/oncologic diagnoses, trials, and treatments is difficult enough even before considering language barriers.
To better understand the issue and improve communication, it is important to note the following:
Language barriers are a significant issue, with pediatric hematology/oncology-specific implications.
Language barriers in health care are associated with misdiagnoses and inappropriate treatment, decreased satisfaction and treatment adherence, and increased risk for harm.1
Looking specifically at the pediatric hematology/oncology population, one study showed that about a third of caregivers with LEP reported feeling that their child would have received better care if English was their primary language. In addition, caregivers with LEP were more likely to incorrectly identify whether their child was on a clinical trial compared with English-fluent caregivers.2 Language also is an important aspect of inequalities in clinical trial participation, as one study showed significant underrepresentation in pediatric oncology protocol participation for children with Spanish-speaking parents.3
Interpreters are crucial, and the type of interpreter matters.
It is well established that families with LEP are less satisfied when family or ad hoc interpreters (eg, bilingual unit clerks, custodial staff, etc.) were used instead of professional interpreters4. One study showed that ad hoc interpreters made errors twice as often as professional interpreters, and 77% of their errors had potential clinical consequences.1
Not surprisingly, a study looking at patient, provider, and interpreter perspectives found that in-person professional interpretation is generally preferred.5 Maximizing in-person interpreter availability is important. However, given that in-person interpretation is not always feasible—especially in the setting of COVID-19—when practices are weighing other options, it is worth noting that families with LEP who received video interpretation were more likely to retain the information provided compared to families who received audio-only telephonic interpretation.1
Additional resources are helpful.
An important complement to using a professional interpreter is the use of materials/handouts in the patient's/family's primary language. Some centers have gone further, with one example being the development of LEP Patient Family Advocates who have 3 roles: specialized medical interpreter, cultural liaison, and healthcare systems advocate/adjunct case management.6
Tips when working with interpreters:
If possible, talk to the interpreter beforehand to briefly summarize what you will be discussing.
Speak directly to the patient/family, not to the interpreter.
Speak relatively slowly and in short sentences, with pauses for the interpreter to interpret.
Even with a professional interpreter, still strive (like with any patient/family) to speak as simply as possible and minimize medical jargon.
Encourage the interpreter to ask clarifying questions and alert you to potential cultural misunderstandings.
Be clear that everything you say and everything the patient/family says should get interpreted; address the issue if there is concern that not everything is being interpreted (eg, the patient gives a long response but the interpreter says only a few words).
While some of this information may not be new, it is important to continually be mindful of the difficulties faced by patients/families with LEP and the tools that can improve communication and patient care.
References
Lion KC, Brown JC, Ebel BE, et al. Effect of telephone vs video interpretation on parent comprehension, communication, and utilization in the pediatric emergency department: a randomized clinical trial. JAMA Pediatr. 2015;169(12):1117-1125.
Zamora ER, Kaul S, Kirchhoff AC, et al. The impact of language barriers and immigration status on the care experience for Spanish-speaking caregivers of patients with pediatric cancer. Pediatr Blood Cancer. 2016;63(12):2173-2180.
Aristizabal P, Singer J, Cooper R, et al. Participation in pediatric oncology research protocols: racial/ethnic, language, and age-based disparities. Pediatr Blood Cancer. 2015;62(8):1337-1344.
Lee LJ, Batal HA, Maselli JH, Kutner JS. Effect of Spanish interpretation method on patient satisfaction in an urban walk-in clinic. J Gen Intern Med. 2002;17(8):641-645.
Locatis C, Williamson D, Gould-Kabler C, et al. Comparing in-person, video, and telephonic medical interpretation. J Gen Intern Med. 2010;25(4):345-350.
Gil S, Hooke MC, Niess D. The Limited English Proficiency Patient Family Advocate Role: Fostering Respectful and Effective Care Across Language and Culture in a Pediatric Oncology Setting. J Pediatr Oncol Nurs. 2016;33(3):190-198.
By Arun Gurunathan, MD, Member, Diversity Advisory Group
Special Feature
April 2020
Interview with Dr. Bill Woods
Stella M. Davies, MBBS PhD
ASPHO is pleased to launch its eNews Special Feature Member Interview Series with a conversation with Dr. Bill Woods, MD, Past President and recipient of the 2011 Distinguished Career Award, about his many contributions to the field and to the Society. Dr. Woods recently announced his retirement from Children's Healthcare of Atlanta/Emory University. ASPHO member Stella M. Davies, MBBS PhD, recently interviewed Dr. Woods for eNews.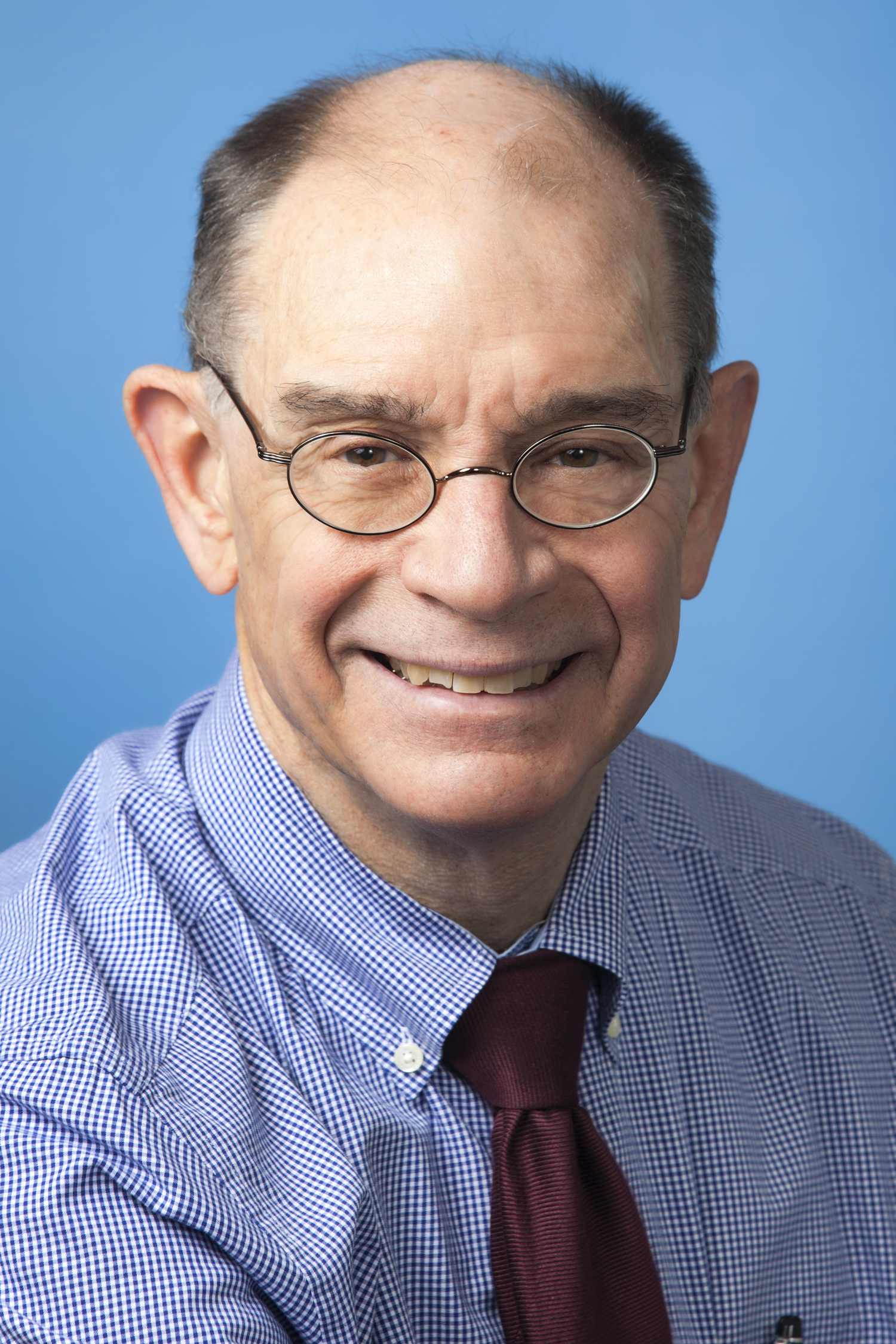 Pediatric hematology/oncology (PHO) has come an enormous distance over the last 40 years. One person leading that charge from the outset was William (Bill) G. Woods, MD, the inaugural interviewee of this new ASPHO series of interviews with key figures in PHO. Bill was ASPHO's president between 2006 and 2008 and received the ASPHO Distinguished Career Award in 2011. He has devoted his life to a combination of basic and clinical research and has seen childhood cancer change from a catastrophic diagnosis to a scary but largely treatable illness.
Bill is well known for his encyclopedic knowledge of the PHO literature and his ability to cut to the central core of any clinical problem. However, Bill is loved for his kindness, generosity of spirit, and the guidance and mentorship he has given to thousands—patients, families and practitioners—in the field of PHO.
This writer was lucky enough to talk about the past and future of PHO, and of ASPHO, with Bill on a bright, sunny day when COVID-19 concerns were pushed into the background for a brief time.
Stella M. Davies (SMD): Bill, why did you decide to go into pediatric oncology?
William G. Woods (WGW): In medical school, I heard that the intelligent folk all go into internal medicine, but I discovered during my training that I had a "pediatric personality"—it's all about "how happy are you with the people around you?" I had never thought I would be an oncologist, but as a resident I noticed that the children who crawled under my skin—you know, the ones who stick with you—were all kids with cancer, and I suffered right alongside them. I also found intellectual fascination in the science—remember this was back before anybody knew what an oncogene was!
SMD: What are the most important changes you have seen in PHO during the last 40 years?
WGW: First, of course, chemotherapy development that worked in animal models appeared to work better in pediatric than adult cancer, giving us the tools to cure cancer. Second, the formation of the cooperative groups. Mortality in PHO fell briskly after the formation of the cooperative groups, and the group strategy spread later to Europe, where further advances were made. In more recent years, development of small molecule inhibitors and now immunotherapy are moving the field forward briskly.
SMD: Why were cooperative groups more successful in PHO than in any other field of medicine?
WGW: One important factor has been that children with cancer historically were generally all referred promptly to academic medical centers for care. Pediatric oncologists agreed as early as the 1950s that we needed to band together to ever make progress in what is, mercifully, a very rare disease. The other important factor has been the culture and characteristics of pediatric oncologists—we are natural "groupies" and love to share, collaborate, discuss, and work together. Also, our field has always focused on the children and not on finance, making cooperative care easier.
SMD: Bill, we have chosen a field in which sometimes, despite our best efforts, children are lost. Has that become easier to handle over the years?
WGW: This never gets easier, but it is a privilege to be with families, helping them on the most difficult days of their lives. This is where the art of medicine takes over from the science.
SMD: Would you recommend this career to someone just starting out today?
August 2020
On the Importance of Mentorship: An ASPHO Mentee Shares Her Experience
Trisha Larkin, MD MBA
A career is a journey that you embark on with others. Mentors can help navigate all the twists and turns you are guaranteed to encounter. Good mentorship can be a tremendous asset along your path and should be sought. Mentors can teach through words, provide us with care and respect, and empower us to confidently approach the next steps in our careers. The ASPHO Mentoring Program was a unique opportunity that I am grateful to have seized. Through the program, every mentor-mentee relationship is different and may be tailored to your needs as a trainee or junior faculty.
I was fortunate to be paired with Dr. Tim Cripe from Nationwide Children's based on my interests in academic medicine and translational research. I was in a small fellowship program and wanted to learn more about how programs with multiple fellows per year approached their curriculum. Dr. Cripe was fantastic about sharing academic resources to complement what I received in my fellowship program and in providing an outside perspective about my research. Having an external mentor translated into benefitting from a wider spectrum of experience and wisdom and a chance to develop thought processes outside of my home institution's culture. He also provided invaluable insight about building my CV, career decisions such as considerations for choosing an additional subspecialty fellowship, factors to weigh in contract negotiation, and how metrics for production can be measured. I found that his objectiveness assisted me in making decisions and envisioning goals for transitioning into the next steps of my career as junior faculty.
Beyond providing advice specific to career development, a mentor-mentee relationship creates opportunities for the mentor to share a wide range of stories about their experiences that include both the successes as well as the pitfalls that the growth of any medical professional is bound to endure. Dr. Cripe shared personal stories with me that were encouraging and reaffirmed that everyone's path to success is different. In a rigorous career that can have emotional tolls, it was invaluable to hear his perspective on prioritizing a healthy work-life balance while still carving out an impactful career. I often found that our conversations were inspirational and reassuring at pivotal times during my fellowship. In a unique way, his mentorship afforded me the opportunity to reach beyond my own institutional circle to complement local mentors. We often think of mentoring in terms of the individuals in close proximity, but participating in this program granted me a remote mentor, which is extremely valuable during times when in-person meetings are prevented by extraneous events such as our current COVID-19 climate.
Fellowship can laden you with fears about the future as intense clinical and research demands mount pressure on young physicians. At times, there can be a worry that what you love about this career path has to be sacrificed to obtain the best faculty positions, secure grant funding, and attain opportunities. Considering the time and effort you have already invested in your career, guidance from someone who has already endured a similar journey can be vital in your growth and development. Active participation in the ASPHO mentorship program allows you to connect with professionals with a myriad of experiences and can be invaluable in helping you shape your ideal version of the specialty. I encourage early career professionals to seize the opportunity to participate.
Trisha Larkin, MD MBA
Clinical Fellow in Neuro-Oncology
St. Jude Children's Research Hospital
The Special Feature section of eNews highlights member-authored opinion pieces on broad issues in pediatric hematology/oncology that are of interest to ASPHO's diverse membership.
Copyright © 2020 by the American Society of Pediatric Hematology/Oncology. All rights reserved. The views and opinions expressed in the Feature Articles are those of the author alone and do not imply an opinion on the part of ASPHO, its Board of Trustees or staff. The information in this newsletter is intended to provide readers with resources and information that they may find useful and of interest and is only current as of the publication date. ASPHO is not liable to any party as a result of their reliance on the information, recommendations, services, or resources discussed or made available through this newsletter.
December 2020
An Interview with Dr. Susan Blaney
Shiley Aguilar, APRN NP-C
As part of the ASPHO eNews Special Feature Member Interview Series, we are pleased to present a conversation with Susan M. Blaney, MD, Director of Texas Children's Cancer and Hematology Centers. ASPHO Communications Committee member Shiley Aguilar, APRN NP-C, recently interviewed Dr. Blaney for eNews.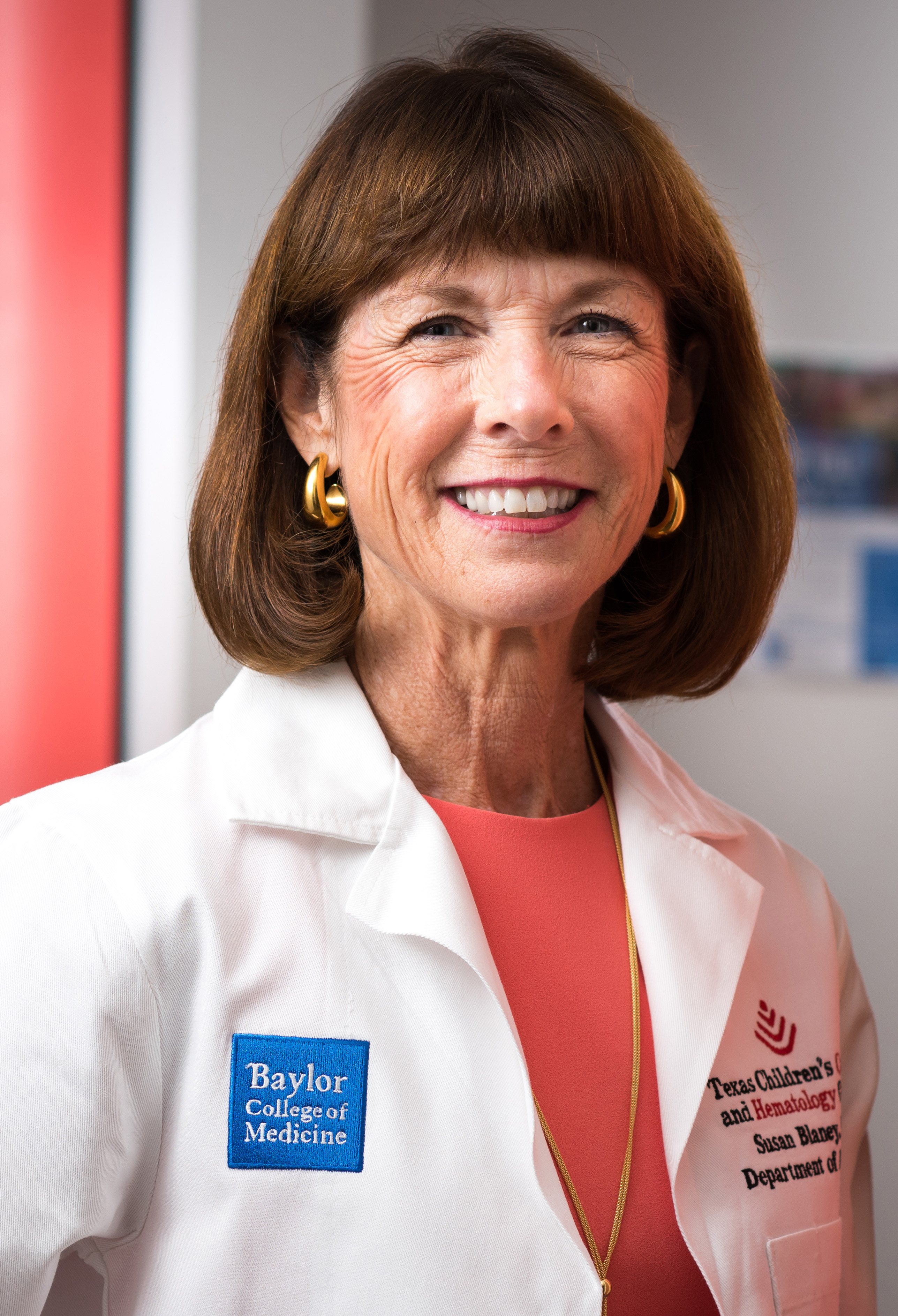 Susan M. Blaney, MD, is vice chair of the Children's Oncology Group, Elise C. Young Chair of Pediatric Oncology and section chief of Hematology/Oncology at Baylor College of Medicine, and one of the founding members of the Pediatric Brain Tumor Consortium. She has served in numerous leadership roles and has been the recipient of many awards and honors, including the NCI Director's Service Award in 2017 and the Women of Excellence Award in 2019 at Baylor College of Medicine.
Dr. Blaney's career has been marked by her contribution to scientific advancements of PHO through research and the development of new agents and therapeutic strategies, as well as her influence through mentorship of practitioners and, of course, her impact on the innumerable children and families she has cared for throughout the years. Her contributions to PHO have undoubtedly left an indelible mark.
Shiley L. Aguilar (SLA): Can you tell us why you decided to go into pediatric hematology/oncology?
Susan M. Blaney (SMB): It is a privilege to take care of children and work with their families during what is one of the most difficult, if not the most difficult, time any child or family will face. The positive difference that the provider team can make in helping a family navigate through this journey is tremendous. In addition, pediatric hematology/oncology is a scientifically dynamic and rapidly changing field. The challenges of how to most effectively and efficiently incorporate new knowledge into the care of patients are both complex and rewarding.
SLA: What are the most important changes you have seen in PHO during your career?
SMB: The most important changes that I have seen in PHO during my career are related to our increased understanding of oncogenesis and associated refinements in risk stratification. The rapid advances in classification of each child's malignancy at the "omic" level, coupled with therapeutic advances in precision medicine through both "targeted" as well as immune-based treatment approaches, have led to new strategies for the treatment of childhood cancers. This new knowledge has also presented the field with significant new challenges in terms of when and how to best incorporate such treatments into cancer care. There is no doubt that our knowledge in this area will continue to advance and be associated with incremental increases in cure rates.
SLA: Can you share any particularly significant moments during your career, in terms of career opportunities, science, or patient care?
SMB: I have had tremendous opportunities that started early in my career. Highlights include the opportunity to train in clinical pharmacology research at the Pediatric Branch of the National Cancer Institute during my fellowship training at Walter Reed Army Medical Center. I was fortunate to have clinical mentorship from Dr. David Maybee and research mentorship from Drs. Frank Balis and David Poplack. This training provided a foundation that was critical to the rest of my career. Dr. Poplack subsequently provided my colleague, Dr. Stacey Berg, and me the opportunity to start a clinical pharmacology program at Texas Children's Cancer Center only several years out of fellowship training. Other highlights include serving as vice chair and then chair of COG's Phase 1 Consortium and then serving almost 10 years as vice chair of COG under the leadership of Dr. Peter Adamson.
Although leadership opportunities during my career have been a tremendous privilege, it has been a substantial honor and privilege to mentor many students, fellows, and faculty over the years. Celebrating their "firsts," such as manuscript publications, platform presentations, grant awards, and leadership positions, has created a series of incredible highlights.
The ultimate privilege that I have had during my career is caring for patients and their families. The trust that our patients and their families place in us as we make recommendations for their treatment and care is incredible. Their experiences put our lives into perspective in a way that is second to none.
SLA: You have had many outstanding leadership positions, including your current role as director of Texas Children's Cancer and Hematology Centers. What has your experience been as a woman in the field?
SMB: My experience as a woman in the field has been positive. There is no question that while raising a family you have to juggle many things, and there are days when you are exhausted. However, I was fortunate that my husband always pitched in and that I had good childcare. The latter investment was essential to providing me with the flexibility that I needed during the formative stages of my career.
SLA: What advice would you give to someone just starting a career in PHO?
SMB: Find an aspect of PHO about which you are passionate so that you can develop a niche that is yours at the local, national, or international level. Embrace opportunities as they arise, as you never know what doors they will open for you. Never stop asking questions. Have fun!
SLA: Once again, we want to thank you for taking the time to give us all insight into your experiences and for your many contributions to our field.
Copyright© 2020 by the American Society of Pediatric Hematology/Oncology. All rights reserved. The views and opinions expressed in the Feature Articles are those of the author alone and do not imply an opinion on the part of ASPHO, its Board of Trustees or staff. The information in this newsletter is intended to provide readers with resources and information that they may find useful and of interest and is only current as of the publication date. ASPHO is not liable to any party as a result of their reliance on the information, recommendations, services, or resources discussed or made available through this newsletter.