Early Career Travel Stipend Award
Travel stipends are awarded annually to as many as four pediatric hematology/oncology fellows who have submitted high-quality abstracts as determined by the Conference Planning Committee. Stipend winners are expected to present their abstracts during platform sessions at the ASPHO Conference.
The qualifications for the award candidates are as follows:
The applicant is either currently a fellow in a pediatric hematology/oncology program or is within 4 years of completing a standard three-year pediatric hematology-oncology fellowship
The individual's abstract has been accepted for presentation either as a poster or platform session at the ASPHO meeting
Author submits an application for funding
Currently a member of ASPHO living in the United States or Canada
Applicant has not received any other ASPHO awards this year
To apply, please include the following:
A supporting letter from the training program director or the program chair, attesting to the applicant's status as well as his/her role in the conduct of the research project
In regard to awards for a particular topic, the letter should address the individual's interest in this area and how participation will advance this area of their career
Winners are chosen based on eligibility criteria, topic, and abstract ranking. The award consists of $500 and will be presented at the conference.
Notes:
Abstract must be submitted by January 9, 2018
All application materials must be received no later than January 9, 2018
Each year approximately 3 awards will be selected based on topical areas of interest as determined by participant needs and/or directed donations
Selected by the Conference Planning Committee
To Apply for an Award
Carefully review the criteria for the award to determine eligibility
Complete the Application Form
Include required supplemental materials to make your award application complete
2017 Early Career Travel Stipend Award Recipients
Jason Schwartz, MD PhD, St. Jude Children's Research Hospital, Memphis, TN
Ryan J. Summers, MD, Emory University School of Medicine, Decatur, GA
Michael Deel, MD, Duke University Medical Center, Durham, NC
"I was honored to be awarded an ASPHO Early Career Travel Stipend Award during my fellowship training. This award, by offering me the opportunity to present my research at an oral platform session, opened numerous networking opportunities within the field. The connections I was able to make as a result of this award have already served to further both my research and my career development and I anticipate they will continue to do so far into the future." Ryan Summers, MD, FAAP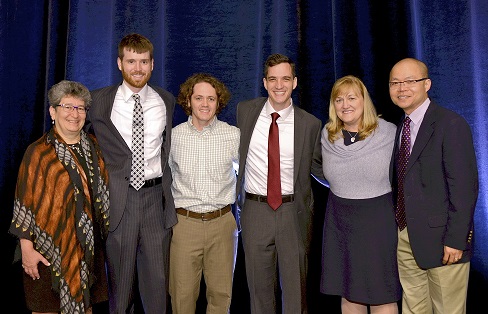 Past Recipients of the Early Career Travel Stipend Award
These awards are supported by member donations to the Enriching the Future fund.
2016
Waitman Aumann, MD, Duke University Medical School
The Role of CRM1 Dimerization in CRM1-AF10 Leukemogenesis
Jonathan Marron, MD, Dana-Farber/Boston Children's Cancer and Blood Disorders Center
Patient/Parent Perspectives on Genomic Tumor Profiling of Pediatric Solid Tumors: The Individualized Cancer Therapy (ICAT) Experience
Pillai Pallavi Madhusoodhan, MD, NYU Langone Medical Center
MSH6 Haploinsufficiency at Relapse Contributes to the Development of Thiopurine Resistance in Pediatric B-Lymphoblastic Leukemia
Nickhill Bhakta, MD, St. Jude Children's Research Hospital
Use of the Cumulative Burden Approach to Assess Cardiovascular Morbidity Among Pediatric Hodgkin Lymphoma (HL) Survivors: A Report from the St. Jude Lifetime (SJLIFE) Cohort Study