Childhood Cancer Survivorship Award for Excellence
Funded by Northwestern Mutual
Professionals who focus on survivorship have chosen to devote considerable effort to helping pediatric cancer survivors live full and healthy lives. To honor the efforts of these exceptional investigators, the Northwestern Mutual Foundation is proud to partner with ASPHO in awarding the Northwestern Mutual Award for Excellence in Childhood Cancer Survivorship, which will annually recognize an individual for their outstanding contributions dedicated to this segment of the pediatric hematology/oncology field.
In 2018, the inaugural year of the award, Northwestern Mutual recognized Dr. Les Robison for his pioneering work in childhood cancer survivorship. As a result of his leadership, there is a growing body of research about the late effects of childhood cancer and guidance for maximizing quality of life for survivors based on knowledge of past treatments. This year the award seeks to recognize an individual who is translating research findings into intervention-based approaches and/or making outstanding contributions to the clinical care of survivors of childhood cancer.
Eligibility:
• Demonstrated commitment to the field of survivorship;
• Evidence of an intervention-based approach and/or outstanding contribution to clinical care of survivors;
• A regular or allied member of ASPHO in good standing (i.e., clinicians, physician scientists, advance practice providers and researchers);
• Ability to personally accept the award during the annual ASPHO Conference and participate in a recognition video to be shared at event.
Nominations for 2019 will require the following:
• Completed application form that includes the Name, Credentials, Institution, and Contact Information for Nominee and Nominator, as well as a succinct compendium of the nominee's accomplishments as they relate to the award's focus;
• Nominee CV;
• Additional Nominator Letters of Support (up to 2) that provide evidence of the nominee's approach or contribution to the clinical care of childhood cancer survivors.
Recognition and Reimbursement:
The 2019 awardee will receive:
• Complimentary Conference registration
• Round-trip economy airfare
• Two nights in the host hotel
• $10,000 honorarium to be used to further the recipient's work in survivorship
Nominations are not currently being accepted for this award.
2018 Recipient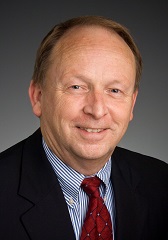 Les Robison, MPH PhD
St. Jude Children's Research Hospital
Memphis, TN
Past Recipients
2018 Les Robison, MPH PhD